We here at AOVO are passionate about electric vehicles. Aside from being fun and packed with the latest tech, they're also very environmentally friendly. Electric scooters are going to last a long time because they emit no emissions and have a low carbon footprint. Electric scooters are the future. An actual electric scooter experience can be found with the AOVO Max Electric Scooter, a model we love.
With a wide range of electric scooter models under its belt, AOVO has become one of the most popular brands on the market. We are dedicated to designing and manufacturing affordable electric scooters that deliver the greatest level of engagement and excitement. Providing a range of models that deliver each and every time, they have exceeded expectations.
There is a lot going for the AOVO Max Electric Scooter from AOVO, full of decent and modern features. This is a serious electric scooter that offers something for just about everyone.
Our review of this electric scooter will explore its features and determine if it lives up to the hype. We will also determine whether this electric scooter is a good fit for you. Please only apply if you are serious about riding scooters!

Gorgeous & Simple design
What do you think of the AOVO Max Electric Scooter? I think it is excellent. This scooter has a classic gray finish with yellow details that gives it a distinctly modern aesthetic.
AOVO Max Electric Scooter appears solid in appearance and comes with the standard components of an electric scooter. It comes with wheels and tires. Check! Handlebars. Check! Brakes, we certainly hope so. There's no need to worry. There's a wheel covered in shiny metal on the front. I'm pretty sure it prevents dirt from getting into the wheel, but we'll go with futuristic.
In general, this is a stylish electric scooter that will give you a cool look. It will not only make folk think you are environmentally conscious, which you are, but it will also make them aware of how much you enjoy hanging out with them. Perhaps a little edgy?
What's New?
The new features are added to the 2022 AOVO Max Electric Scooter to make it a smoother and more enjoyable electric ride.
A new battery has been added to the AOVO Max Electric Scooter, increasing its battery capacity from 7.8 Ah to 15 Ah, thus giving it a more extended range of 60 Km or more. The larger battery can fast-charge at 3A, which makes charging faster. It is a significant improvement to reduce the charge time by an hour or two.
Thanks to the 350 Watt motor, the ride is far smoother and more stable. With this change, the maximum weight allowance increases to 120 Kg, and the hill climb is increased to 20 degrees.
Furthermore, pneumatic tires of 10 inches are upgraded to smooth, rough surfaces. Moreover, the tires are solid, which prevents punctures. You are kept firmly glued to the surface even more with their anti-slip properties.
With a completely rebuilt AOVO App, users can experience a much more user-friendly interface. With the new app, you can control the headlight, set a speed limit, view your full riding mileage, and control the cruise control.
It has a redesigned folding mechanism with a clean operation when folding it up and down. It can be folded up and down in a few seconds as well.
These new features are a testament to AOVO's commitment to providing better products to their customers. Hats off to AOVO!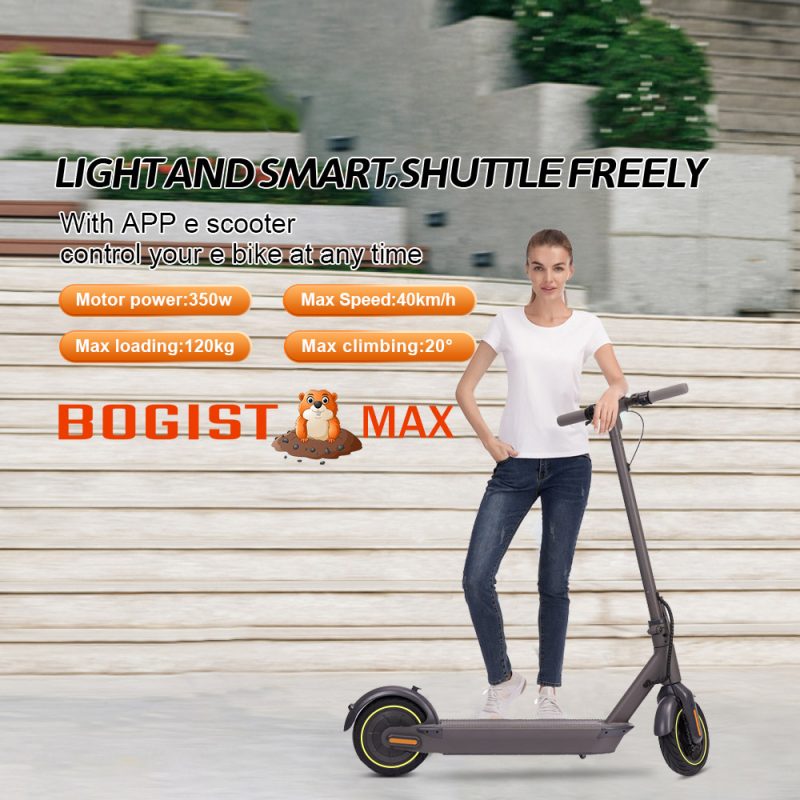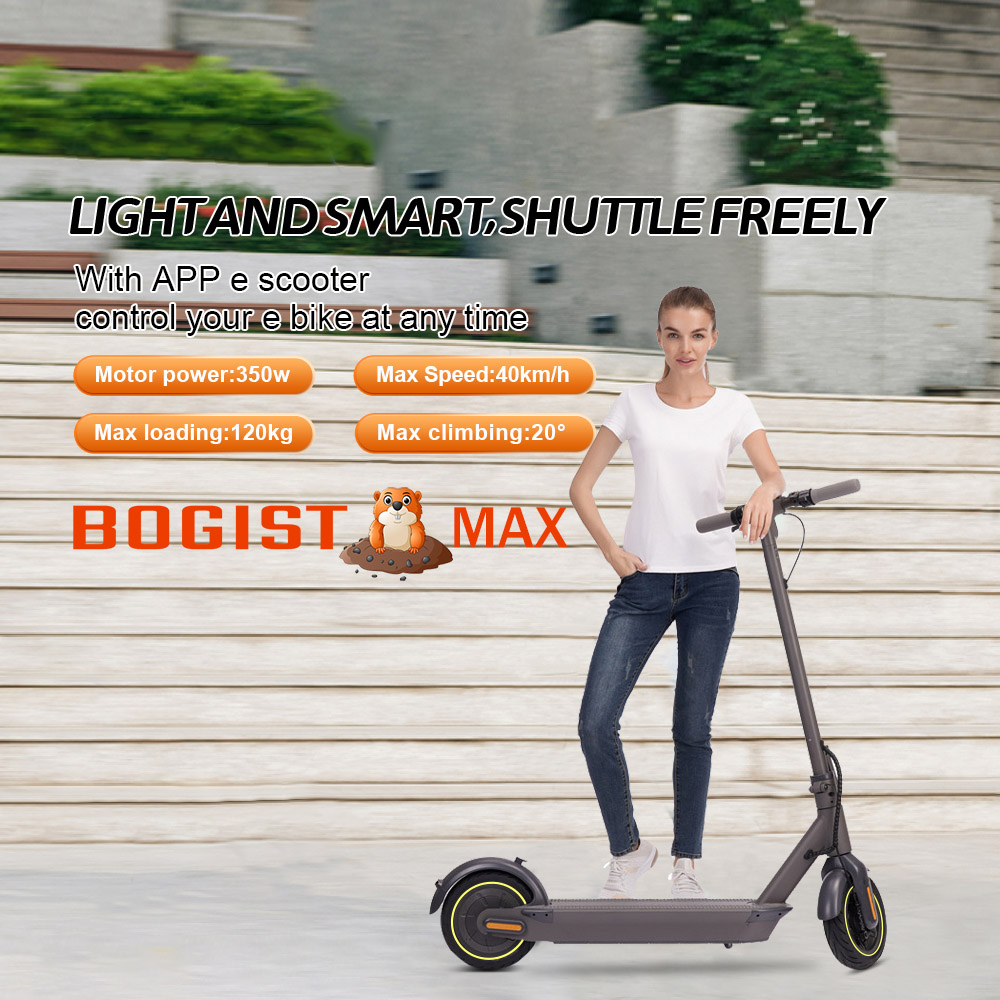 Power To The Electric Scooter
It's time to get down to the details. The speed of the test is quite fast. What about the distance? AOVO Max electric scooters are capable of speeds of up to 40 km/h. This seems fairly fast to us. This scooter has three speed modes, just like many electric scooters. The AOVO scooter has a low top speed of 15 kilometers per hour, a middle speed of 25 kilometers per hour, and a low, mid, and top speed of 40 kilometers per hour, giving you the freedom to navigate around those tricky obstacles.
This car has a low center of gravity, offers a fluid ride, and can easily navigate bends, providing a controlled operation when turning and cornering.
Moreover, there are no problems with hills either. Due to its low power consumption of 350 watts, you can easily scoot up hills and will easily climb slopes of up to 20° on the AOVO Max Electric Scooter. You can glide past your friends laughing as you pass them.
In terms of distance, the AOVO Max Electric Scooter can travel up to 40 km before requiring recharging. This distance is sufficient for a daily journey on your electric scooter.
Ultra Safe Scooter
In addition to its 10-inch pneumatic tires, the AOVO Max Electric Scooter is equipped with a number of safety features that ensure you're safe while you're on this green machine.
AOVO Max Electric Scooters have a regenerative brake to stop quickly and safely. They do not skid. There is no skidding with AOVO Max Electric Scooters. They are equipped with a regenerative brake system for quick, safe stopping.
This scooter is outfitted with a very bright LED front light, which lets others know that you're scooting around when the sun is setting.
As I mentioned, the bell has been improved so that it is more ergonomic and durable. The details make the difference.
Loaded To The Max
We love the AOVO Max Electric Scooter because it is packed with a lot of great features. Some of them are actually useful. I jest, but the AOVO Max Electric Scooter is amazing in all seriousness. Electric scooter features like its improvements and decent specs make it the best electric scooter on the market. And best of all, it has an incredibly low price. You can get a lot of electric scooters for your money.
This new and improved AOVO Max Electric Scooter is perfect for those new to electric scooters, as well as those who are experienced.