Are you tired of dealing with traffic and fuel expenses while commuting? Take a glance at the AOVO®Bogist M5 pro Portable Mini folding eMotorcycle! This electric scooter is foldable and easy to use, making it an exceptional choice for short-distance travel. Boasting a 500W motor and a mileage of 40 km, you can easily move around town while caring for the environment. This blog article will delve into the characteristics of the AOVO®Bogist M5 pro Portable Mini folding eMotorcycle, giving you a thorough insight into its remarkable features.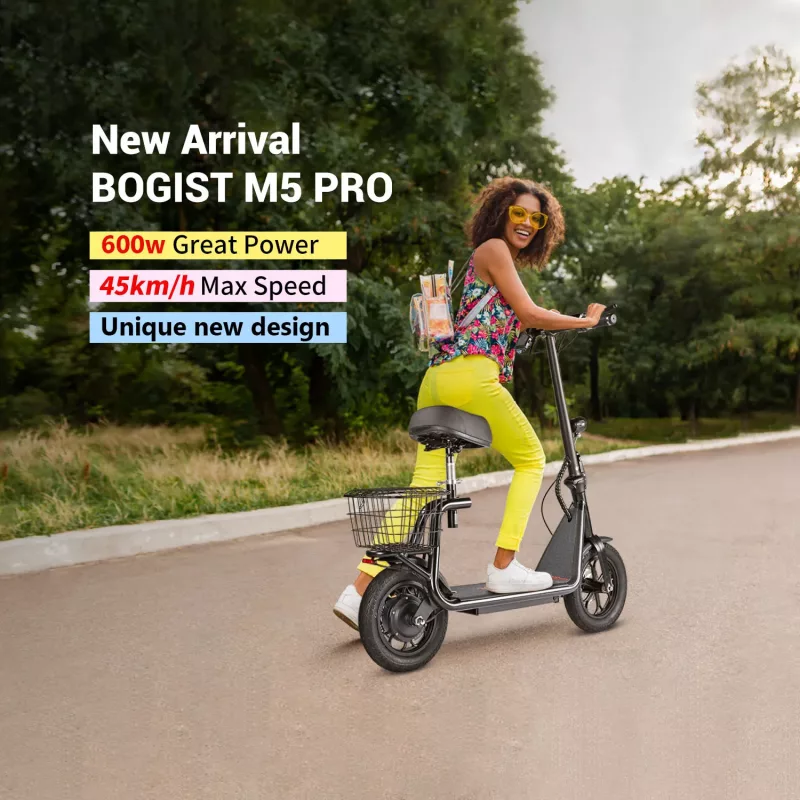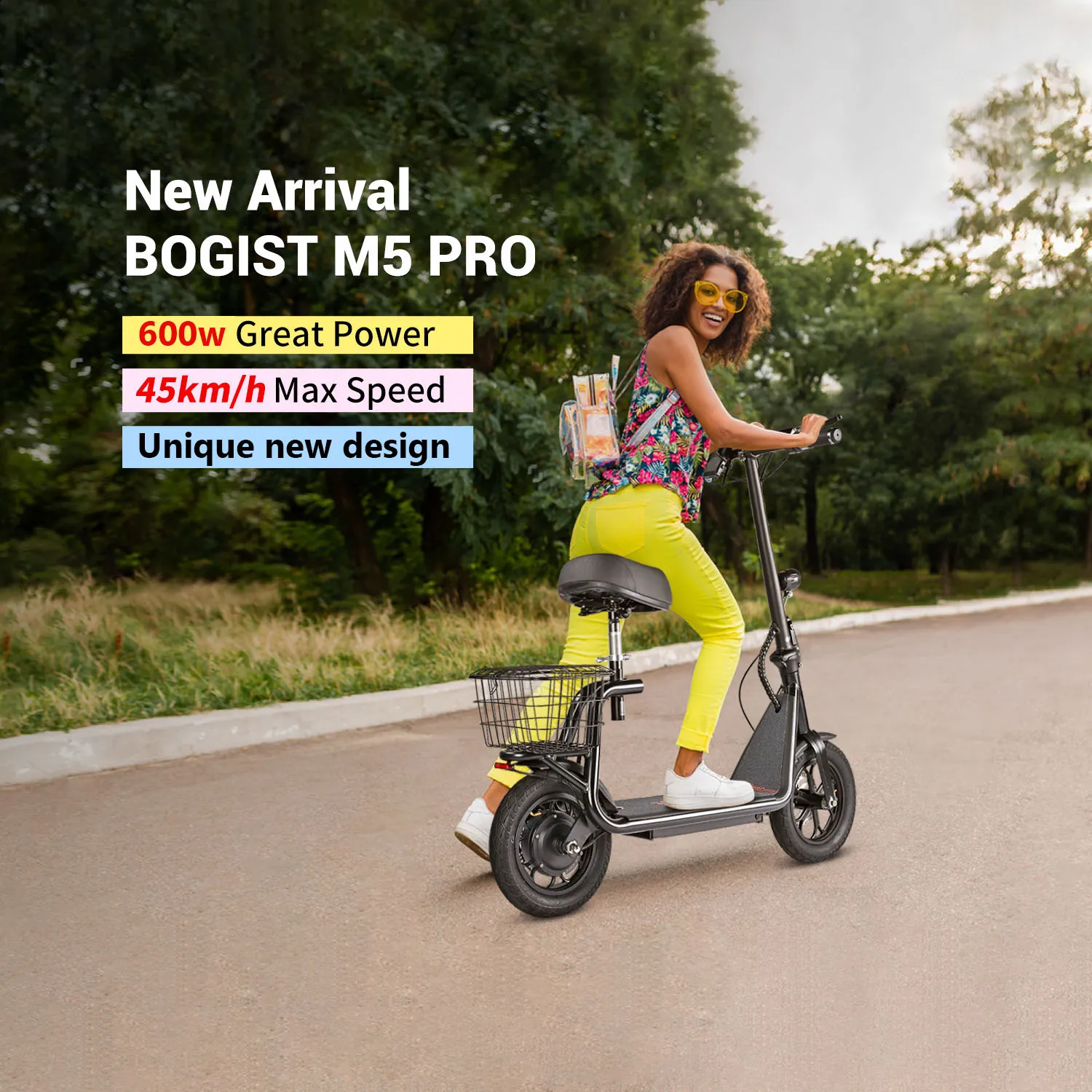 Introduction
The AOVO®Bogist M5 pro Portable Mini folding eMotorcycle is a one-of-a-kind electric scooter specifically designed to meet the transportation requirements of city dwellers. This state-of-the-art vehicle is lightweight and compact, enabling hassle-free handling and portability, especially in bustling metropolitan areas.
The AOVO®Bogist M5 pro boasts a highly potent 500W motor known for its ability to conquer challenging inclines and attain top speeds of 20 km/h. With such an exceptional motor, riders can effortlessly ascend steep hills and breeze through their commute with unparalleled proficiency.
The AOVO®Bogist M5 pro, aside from its impressive motor, flaunts many remarkable characteristics. Perks include a sizable lithium-ion battery capable of holding substantial energy, guaranteeing consistent and trustworthy performance even during extended rides. Because of this, riders have one less thing to stress about when making their way through lengthy distances.
With its sturdy yet lightweight aluminium alloy frame, the AOVO®Bogist M5 pro is easy to carry and transport. Whether you need to stash it away in tight spaces or hop on public transit, this scooter can be folded and unfolded quickly. Its durability ensures that it lasts for many miles of enjoyable rides.
With an array of safety features like front and rear LED lights, a horn, and a disc brake system, the scooter guarantees a secure journey, come rain or shine. These innovative solutions allow riders to enjoy their commutes without worrying about their well-being.
To fulfil the commuting needs of urban dwellers who value reliability, efficiency, and convenience, the AOVO®Bogist M5 pro Portable Mini folding eMotorcycle stands out as a topnotch option. Its motor is powerful, the battery lasts for a long time, and its light weight will impress even the most particular riders.
Foldable design
The AOVO®Bogist M5 pro presents itself as an electric scooter catering to the demands of contemporary commuters. As a preferred option for those who value consistency and effectiveness in their commute, its exceptional foldable framework sets it apart from its counterparts, amplifying its uniqueness.
The engineers of the AOVO®Bogist M5 pro have meticulously crafted its design to ensure maximum convenience for the user. The collapsible feature of the scooter is a testament to their thoughtful approach. The rider can effortlessly tuck away the scooter in tiny areas, which is truly a godsend for individuals residing in modest apartments or those lacking ample storage. The scooter can be collapsed to a remarkably compact size, allowing it to be stowed away in a cupboard, beneath a bed, or in any room nook.
The portability of the AOVO®Bogist M5 pro is further enhanced by its foldable structure. With a mere weight of 26 lbs, this electric scooter is exceptionally lightweight compared to competing products. Its compact size, and feather-like weight makes it incredibly effortless to transport when you're not cruising around. It's easy to climb up a staircase, hop on a bus or train, or even take it inside your workplace.
The AOVO®Bogist M5 pro's foldable design not only provides convenience in terms of usage but also offers the great advantage of hassle-free storage in the trunk of your car. Those who enjoy travelling with their scooters will find this feature particularly useful as the compact size can be achieved once it's folded down. As a result, it can be effortlessly accommodated in most car trunks, allowing you to take your beloved scooter with you on any road trips or vacations without any extra effort.
The AOVO®Bogist M5 pro boasts a foldable design for practical and artistic purposes. Its streamlined and contemporary appearance sets it apart from other e-scooters, allowing it to make a statement wherever you go. Moreover, the scooter's array of colour options ensures you can select the perfect hue to complement your unique style.
To sum up, the distinctive characteristic of the AOVO®Bogist M5 pro is its foldable composition. This attribute renders the scooter convenient to keep in tiny areas, portable to carry along, and hassle-free to stow away in your vehicle's trunk. The plan is not just useful but also visually captivating, thus, making it a superb preference for individuals aiming for an effective and dependable mode of conveyance with an eye-catching appearance.
Lightweight and Portable
Are you searching for a practical and high-performing electric scooter for your daily travels? Allow us to introduce the AOVO®Bogist M5 pro. Boasting an outstanding weight of only 18 kg due to its sleek and manoeuvrable build, this scooter is the go-to option for those seeking a swift and dependable method of getting around. It's no wonder that with its remarkable performance and seamless control, it's rapidly becoming one of the most coveted electric scooters available today.
The AOVO®Bogist M5 pro stands out as a brilliant feat of engineering, tailored for utmost convenience with its featherweight construction that offers many advantages, especially in its easy-to-carry design. This intuitive scooter can be easily folded up, bringing along an unmatched level of portability that makes it your ultimate expedition partner. Its impressive adaptability further endows it as a prized tool for commuters relying on public transportation or living in compact spaces. So, whether you're on a shopping spree, hustling to work, or cruising for leisure, the AOVO®Bogist M5 Pro is the perfect sophisticated and dexterous electric scooter to accompany you on all your journeys, big or small.
The AOVO®Bogist M5 pro electric scooter is not your average, run-of-the-mill mode of transportation. It combines its remarkable portability with many impressive features, elevating it to a league of its own. The powerful motor provides the necessary velocity, reaching top speeds of 25 km/h, catering to those who require quick and efficient travel. Moreover, the sturdy engine ensures a seamless ride, lasting up to 25 km without a recharge, eliminating the tedious task of frequently refuelling.
The AOVO®Bogist M5 pro scooter is an extraordinary vehicle designed with a perfect blend of robustness and skill, providing an easy and smooth daily ride. Its comfortable seat setting and easily manageable handlebars make it effortlessly glide even on rough, undulating trails. The built-in safety features amplify the impressive polymer architecture, with a dazzling headlight, a mighty brake light placed offshore, and a fender that safeguards against moisture and debris.
Are you seeking a mode of transportation that is both easy and stress-free? If so, look no further than the AOVO®Bogist M5 pro electric scooter. The efficiency of the motor in this sleek scooter guarantees a smooth ride, while its exceptional battery life outshines its competitors. It's an ideal companion for everyday tasks such as running errands, purchasing groceries, or leisurely strolling through your locality. Whether you're an amateur or a professional with electric scooters, this exceptional product will surpass your expectations.
Long-Range battery
If you're seeking a reliable and efficient way to travel, the AOVO®Bogist M5 Pro is your answer. This electric scooter is the ideal choice for those constantly moving due to its exceptional user satisfaction. It outshines other comparable models owing to its extraordinary lithium-ion battery. The battery offers an impressive storage capacity and grants you a ride distance of up to 40 km without recharging. The AOVO®Bogist M5 pro's top-notch performance and features make it evident why it is the unbeatable triumphant of the electric scooter market.
In recent times, the popularity of the lithium-ion battery has skyrocketed due to its impressive ability to store energy, remain long-lasting, and avoid self-discharging. The AOVO® Bogist M5 pro electric scooter utilizes a robust 36V 10.4Ah lithium-ion battery pack, allowing for a seamless ride covering 40 kilometres before recharging.
Thanks for providing me with this text. Here's my paraphrased version: The AOVO®Bogist M5 Pro e-scooter has revolutionized how we charge our vehicles with its cutting-edge lithium-ion technology. This remarkable scooter comes equipped with a high-capacity battery that frees you from the inconvenience of frequent recharges, elevating your overall travel experience. Whether you have errands to run or a daily commute to attend to, you can now rely on this dependable, cost-effective, and low-upkeep mode of transportation to ensure a smooth and stress-free ride every time.
Were you looking for a trusty companion for your upcoming rides? Look no further than the AOVO®Bogist M5 pro electric scooter. With its exceptional performance, you can say goodbye to sluggish journeys and hello to smooth cruising. Plus, with its top-of-the-line lithium-ion battery, you'll never be caught short on power. Recharging is a breeze, too; plug in the accompanying charger, and you'll be back up and running in four to six hours. Take advantage of this downtime by relaxing and unwinding. You might even be able to catch a quick nap! Hit the road with the AOVO®Bogist M5 pro-e-scooter by your side and enjoy the ultimate effortless transportation.
With its revolutionary Battery Management System (BMS), the lithium-ion battery featured in the AOVO®Bogist M5 Pro stands out as exceptional, ensuring protection from possible threats such as overcharging, short-circuits, and over-discharging, thus guaranteeing both durability and peak performance. Moreover, the BMS constantly monitors the battery's efficiency, enabling effortless tracking of its status and allowing easy access to its remarkable functions whenever required.
Experts consider the AOVO®Bogist M5 electric scooter an excellent and reliable mode of transportation, especially for professionals. Its professional-grade features include a remarkable lithium-ion battery that can take up to forty kilometers on a single charge, thanks to its impressive storage capacity. Apart from the battery management system's intelligent protection, charging is quick and easy. This scooter is a no-brainer option if you prioritize practicality, dependability, and environmentally friendly travel.
High-Performance Motor
The AOVO®Bogist M5 pro is a convenient electric scooter with a robust 500W motor that can swiftly conquer any incline or hill. This makes it a perfect pick for those frequently travelling through hilly regions. The motor renders enough force to easily attain steep inclines, giving the user an unworried and seamless ride.
Besides its robust motor, the AOVO®Bogist M5 Pro has a remarkable maximum velocity of 20 km/h. This pace is ample to reach your desired location swiftly and productively, rendering it an excellent choice for individuals with a busy lifestyle. Whether commuting to your office or doing errands in town, the AOVO®Bogist M5 pro is a reliable companion that can transport you quickly and effortlessly.
In addition, the AOVO®Bogist M5 pro has also been created to prioritize users' convenience. The scooter has a cosy seat that lets you sit back and unwind while cruising. Moreover, the handlebars can be modified to suit riders of varied heights, ensuring everyone can ride comfortably. The cherry on top is the suspension system that effectively minimizes jolts and vibrations, augmenting the overall soothing experience of the ride.
The safety of the rider is of utmost importance, and the AOVO®Bogist M5 pro acknowledges that. With its focus on rider safety, this scooter boasts cutting-edge safety elements. For instance, to bolster visibility during low-light situations, the scooter boasts front and rear integrated lights, which help the rider see more clearly and aid other travelers in spotting the rider. Moreover, the scooter's brake system has been created to guarantee that the rider can come to a rapid stop in any situation, an essential component that helps to attain complete safety while riding.
The AOVO®Bogist M5 pro electric scooter is an impressive way to get around. With a remarkable engine that enables speeds of up to 20 km/h, this scooter is a top contender for daily commuters seeking a secure and hassle-free ride. Its practicality ensures effortless travel around the bustling city for work, errands, or leisure without compromising comfort and ease. If you're looking for an efficient and comfortable way to get around, the AOVO®Bogist M5 Pro is an excellent choice.

Comfortable Riding Experience
The AOVO®Bogist M5 pro aims to make your ride as smooth as possible with a generously sized board and big wheels with remarkable shock-absorbing capabilities, allowing you to navigate even the most uneven terrain with ease.
LED Lights
Riding safely during dim lighting situations is made possible by the AOVO®Bogist M5 pro's front and back LED lights, ensuring better visibility and improved safety.
Easy to Operate
Operating the AOVO®Bogist M5 pro is a breeze, thanks to its uncomplicated throttle and brake mechanism. Furthermore, its digital screen furnishes instantaneous insights into your velocity, battery potency, and the distance covered, leaving you well-versed in your ride's nuances.
Eco-Friendly
The AOVO®Bogist M5 pro presents an environmentally conscious commuting method, boasting no toxic discharges and minimal carbon imprint. This innovative vehicle is a fantastic choice for individuals looking to lessen their ecological footprint.
Safe and Reliable
With its durable frame and high-quality components, the AOVO®Bogist M5 pro provides a secure and dependable experience built to withstand frequent use and last for a significant time.
Suitable for All Ages
Riders of any age group will find the AOVO®Bogist M5 Pro ideal for their cruising needs. Its remarkable weight capacity of 120 kg proves it to be an excellent choice, be it kids or grown-ups who fancy a comfortable ride.
Easy to Maintain
The AOVO®Bogist M5 pro offers a hassle-free ownership experience as it demands minimal upkeep since its components are simple and can be easily replaced or repaired. Furthermore, the device is accompanied by a trustworthy warranty to put your mind at ease and shield you from any unforeseen accidents while utilizing it.
Cost-Effective
The AOVO®Bogist M5 pro is a savvy alternative worth considering if you desire a cost-effective mode of transportation. Besides reducing maintenance and fuel costs, it lets you skip the headache of navigating through heavy traffic and incurring exorbitant parking fees.
Conclusion
The AOVO®Bogist M5 pro Portable Mini folding eMotorcycle is a superb choice for people who value ease and environmental responsibility in their transportation. Its foldability, lightweight construction, and expansive battery life are particularly useful for city commuters seeking to traverse shorter distances. Whether you're an academic, white-collar worker or seeking a break from standard commuting options, the AOVO®Bogist M5 pro is worth looking into.