As the demand for eco-friendly and hassle-free transportation has surged, electric scooters have become the talk of the town. Among the plethora of options, the AOVO®X9 Plus has emerged as a class apart, flaunting an exceptional lineup of attributes and configurations. This article will explore why the AOVO®X9 Plus is the perfect option for those who commute frequently.
Introduction to AOVO®X9 Plus
The AOVO®X9 Plus, an electric scooter tailored for the commuting community, is an exemplary choice for individuals seeking a transport system that is both dependable and efficient. It is an optimal alternative for those frustrated with rush hour congestion and the inconvenience of locating parking spaces.
The AOVO®X9 Plus boasts an impressive 850W maximum power motor, which sets it apart from its competitors. If you're hurrying to your workplace or institute, this scooter has covered you with its default maximum speed of 25km/h. Moreover, its robust 500W motor doesn't compromise on the smoothness and effectiveness of your ride, even when easily tackling uphill routes, which is why it is an exemplary selection. This makes it a perfect fit for individuals residing in elevated regions searching for an efficient mode of transportation.
The AOVO®X9 Plus boasts an impressive attribute in the form of its mammoth 26Ah battery, which can potentially cover a distance of up to 65km once fully charged. This exceptional battery capacity makes it a feasible option for extended travel and commuting. One can journey to their workplace or educational institution without any concerns about the battery draining out mid-way.
For daily commuters, the AOVO®X9 Plus is a superb choice due to its numerous useful features. One such feature is the in-built LCD that presents crucial data like velocity, battery time, and distance covered. Moreover, the front and rear suspension system is an added advantage, ensuring a more comfortable ride, even on uneven paths.
The AOVO®X9 Plus boasts a contemporary and stylish design that will catch your eye. By integrating a folding mechanism in its design, this remarkable product goes beyond just being visually appealing; it also delivers unprecedented convenience, making it effortless to store and transport anywhere. Moreover, its sturdy aluminum alloy frame makes it lightweight and ensures superior durability, enabling it to withstand rigorous daily usage easily.
The AOVO®X9 Plus is an excellent choice for individuals who rely on daily commutes, and seeking dependable and effective transportation. Its robust motor, impressive battery life, and practical attributes ensure a smooth and convenient ride, ideal for those who prefer avoiding the inconvenience of regular commuting.
Design and Build Quality
The AOVO®X9 Plus e-scooter is the epitome of contemporary and chic transportation methods, boasting an elegant and practical build. Its durable aluminum alloy frame can accommodate up to 120kg, rendering it appropriate for a vast demographic of users and granting it the resilience and steadfastness required for consistent and comfortable commuting. The structure's sturdiness guarantees that the scooter remains stable throughout regular use.
The AOVO®X9 Plus electric scooter boasts a remarkable attribute- a foldable design for hassle-free portability and storage. This feature is especially beneficial for urban commuters who must maneuver their scooters on public transport or save it in a cramped-up domicile. An added perk of this foldable feature is the ability to take it along on exciting escapades, enabling you to explore the convenience and liberation of electric mobility, no matter where you choose to head.
The safety aspect of electric scooters is of utmost importance, and the AOVO®X9 Plus takes it very seriously. It has a powerful LED head and tail light, making it extremely visible even in low-light settings. Poor visibility can be a real menace when cruising on your scooter during the wee hours or after sunset. In such situations, this distinct characteristic becomes a lifesaver. Additionally, the scooter has a built-in horn that you can sound off to alert your co-riders or passersby of your presence on the road.
For individuals seeking a stress-free and comfortable mode of transportation to carry out their day-to-day tasks, be it for school runs or daily work obligations, the AOVO®X9 Plus electric scooter emerges as the ultimate answer, marrying dependability and trendy aesthetics in its design. Its robust build, collapsible structure, and various safety mechanisms guarantee a seamless and pleasurable experience for a prolonged period.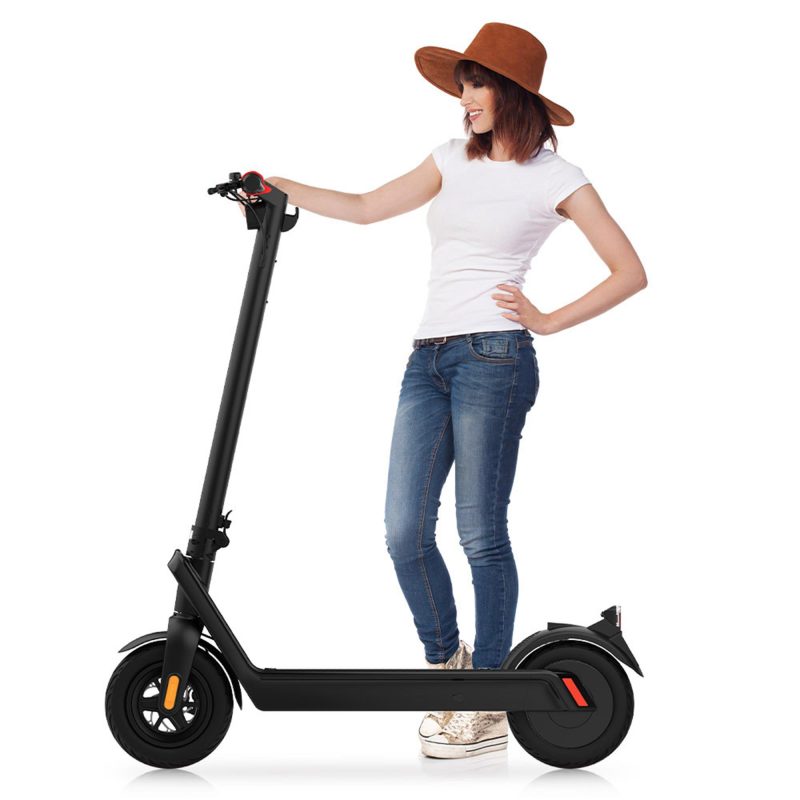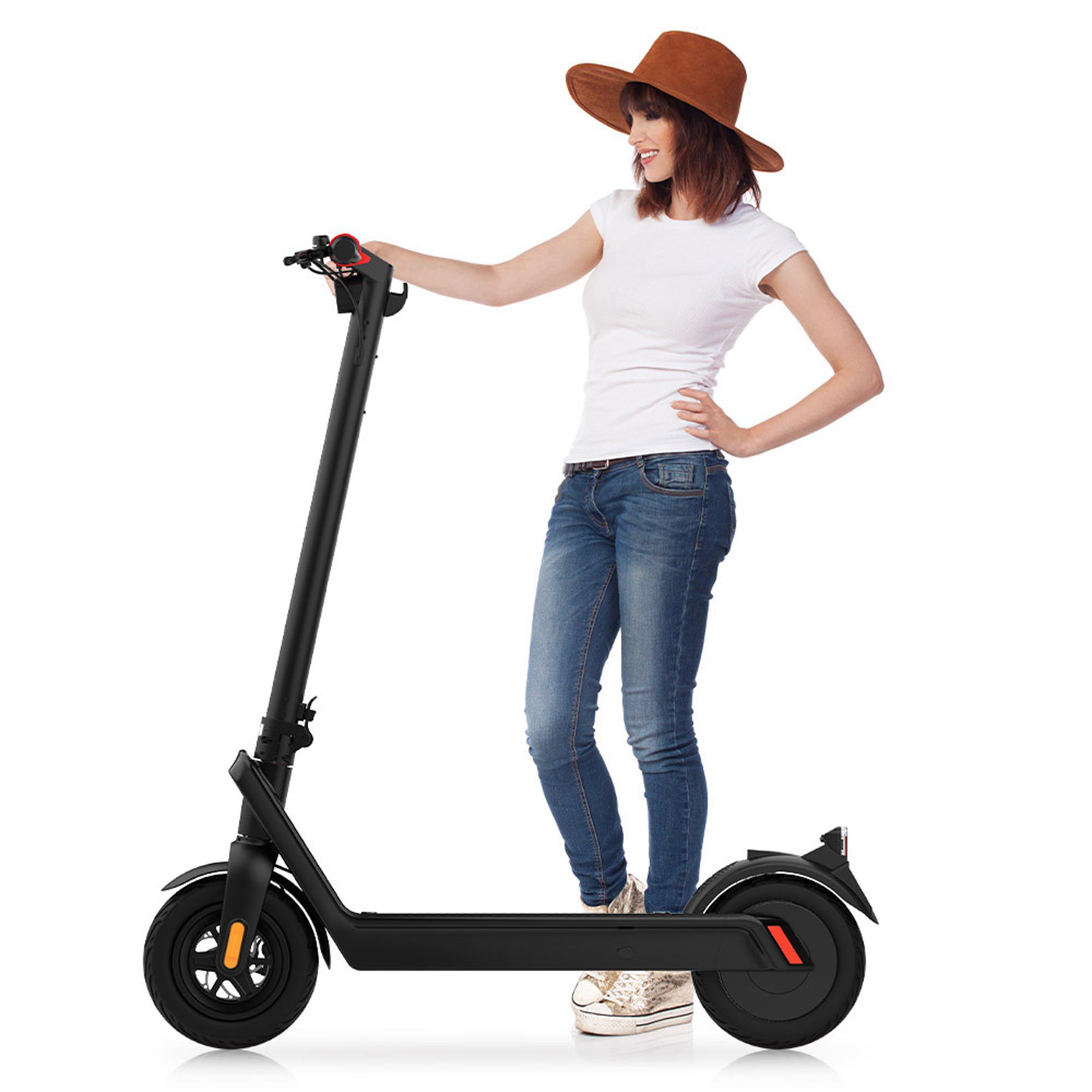 Performance and Handling
The AOVO®X9 Plus e-scooter boasts a ride so smooth and cozy it'll make you feel every bit like royalty. The nitty-gritty of this experience is the top-of-the-line front and rear suspension system. Taking the grunt work away from you, this system soaks up every shock and impact encountered on your journey, giving you a couch-like ride quality. Whether navigating bumpy terrains or hurdling over debris, the suspension system ensures your ride stays steady and confident, keeping any mishaps or injuries at bay.
The AOVO®X9 Plus scooter possesses a crucial element that sets it apart – the 10-inch pneumatic tires. These tires are the epitome of comfort, owing to their remarkable shock absorption capabilities. In contrast to solid rubber tires, the pneumatic variety is infused with air, rendering them adaptable to compression and expansion based on the surface. This translates to a smoother and more comfortable ride as the tires adjust themselves to any bumps, dips or crevices along the way, ultimately alleviating the impact on the rider.
With the bonus of a dual braking system, the AOVO®X9 Plus boasts both front and rear disc brakes. This means that, even when taking off at high velocities, the brakes provide a dependable and secure method of stopping. Furthermore, the combination of front and rear brakes guarantees equal allocation of braking power, preventing any chance of slipping and guaranteeing maximum stability. It's crucial to highlight the significance of this advanced braking mechanism, which provides safety for the rider and pedestrians and vehicles sharing the same route or passage.
The AOVO®X9 Plus boasts an astounding feature of cruise control, which proves to be an incredibly convenient attribute for riders. It empowers the rider to maintain a consistent speed without constantly fiddling with the throttle. This characteristic is favorable for long journeys or when riders desire to preserve energy. By effectively utilizing cruise control, the rider can sit back, unwind and revel in the ride without fretting about maintaining a steady tempo.
In essence, the AOVO®X9 Plus e-scooter is crafted to offer a pleasant and effortless ride, emphasizing safety and convenience. With advanced features such as front and rear suspension, 10-inch pneumatic wheels, dual braking mechanism, and cruise control, this scooter is a dependable and efficient commuting option for students, office-goers, or environmentalists seeking a green and effortless mode of transport.
Battery and Charging
The electric scooter, AOVO®X9 Plus, is exceptional due to its incredible 26Ah battery, providing unparalleled convenience. The exceptional feature of this scooter lies in its powerful battery that effortlessly covers a distance of 50 miles on a single charge, setting it apart from its rivals by offering great value. Whether you must travel daily to your office or institute, an impressive battery backup is paramount to ensure uninterrupted travel. The scooter's distinctive selling point positions it as a perfect companion for your commutes, surpassing other models in the same league.
The electric scooter is equipped with a fantastic feature that allows its battery to be completely replenished in a reasonably short time, usually around 7 to 8 hours. What sets this model apart is the ingeniously designed charger that allows the user to connect it to any standard wall outlet, making it hugely suitable for use in personal and professional environments. This facet is especially advantageous in locations with limited charging options, ultimately showcasing the scooter's flexibility.
The battery lifespan is a critical feature of an electric scooter, and the AOVO®X9 Plus boasts an impressive 1000-cycle lifespan. This suggests that the battery can go through a charging and discharging process up to 1000 times before necessitating a replacement. As a result, riders can take advantage of years of usage before considering investing in a new battery, which is a major cost-saving aspect.
To sum up, the AOVO®X9 Plus stands out as an exceptional electric scooter owing to its remarkable attributes, including an extensive battery, an easily accessible charging mechanism, and an extended battery life. This renders it an optimal alternative for people seeking a reliable and effective means of travel for their daily commute. Thanks to its exceptional battery capabilities, riders can enjoy longer journeys without concerns about battery depletion. Moreover, the added benefit of charging it at home or work makes it an environmentally friendly and economical preference for those who wish to diminish their carbon impact and curtail commuting expenses.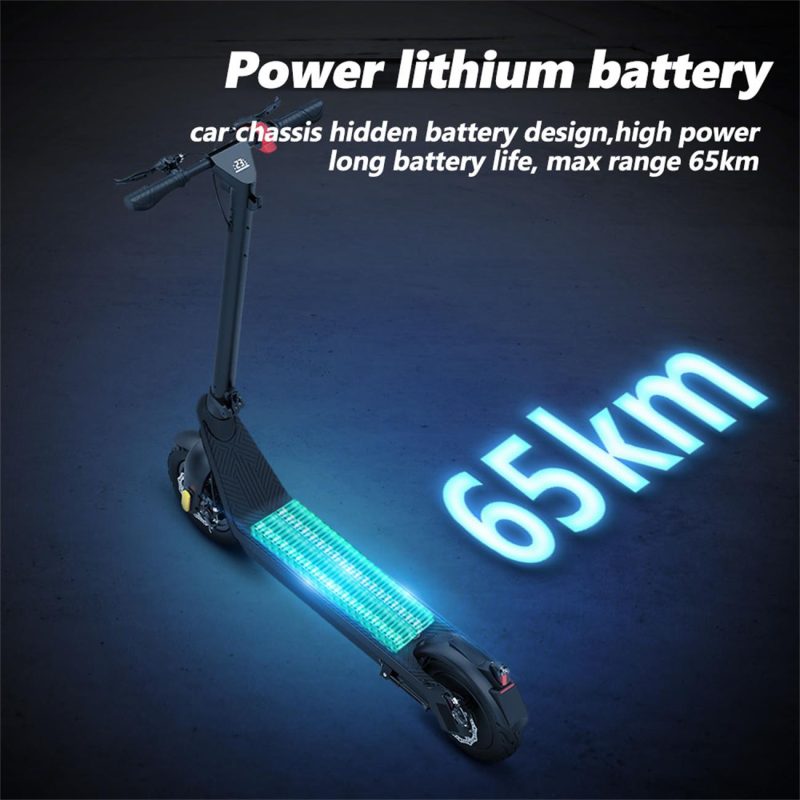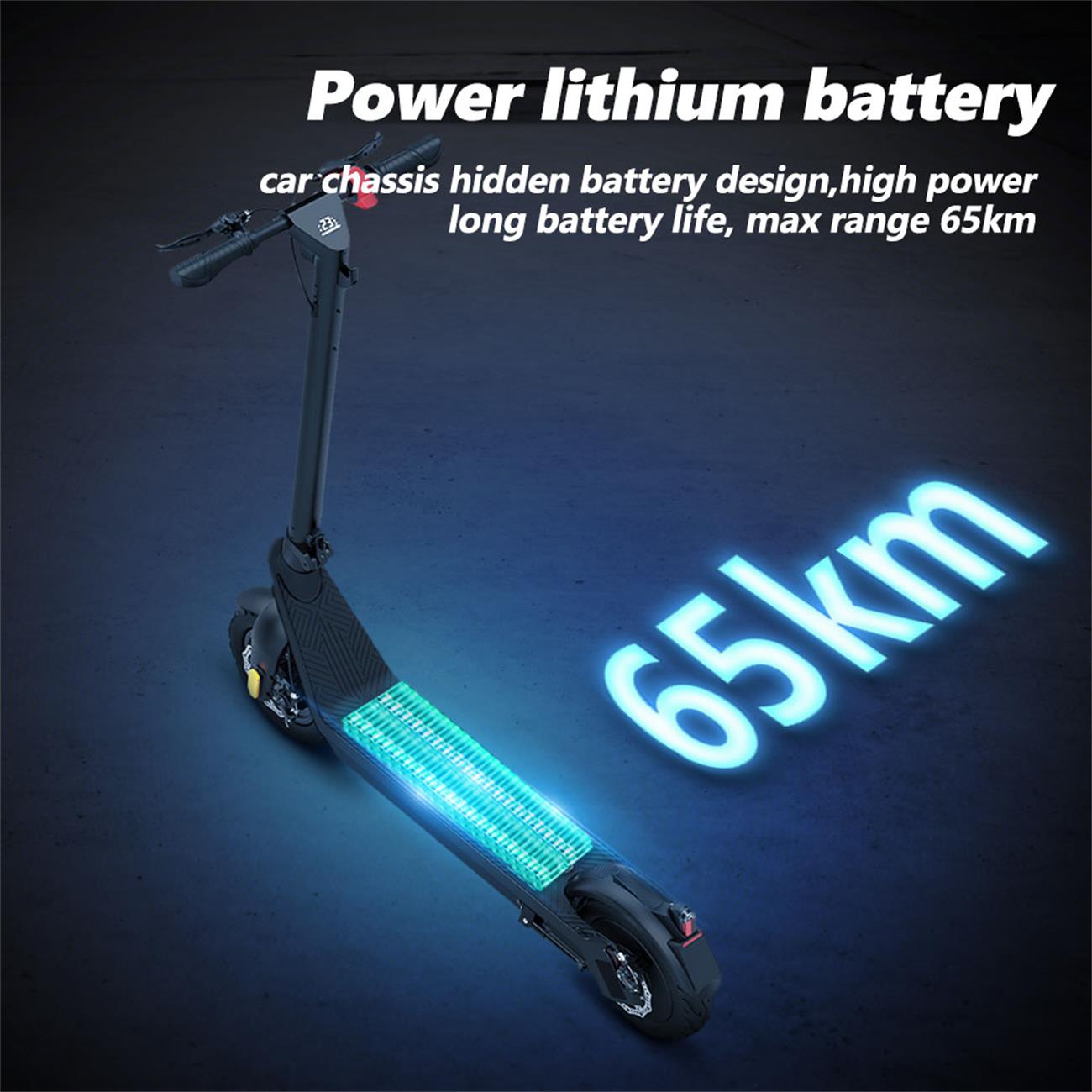 Control and Display
Effortlessly navigate the AOVO®X9 Plus using its user-friendly control system. The LCD on the handlebars provides crucial information such as speed, battery life, and other pertinent data at your fingertips. The brightly lit screen ensures legibility even in dim lighting. Furthermore, the scooter incorporates a key ignition system for added safety.
Portability and Storage
If you're frequently on the go, the AOVO®X9 Plus electric scooter might be the perfect fellow for you. With many remarkable features, this scooter is designed to transport individuals to their destinations without any hassle conveniently. The most prominent benefit of this impressive ride is its portability. Thanks to its innovative foldable structure, anyone can easily carry it around.
The AOVO®X9 Plus boasts a revolutionary feature in its foldable design, which truly sets it apart from other electric scooters available in the market. The scooter's capacity to fold into a 120cm x 25cm x 50cm compact shape is revolutionary for individuals who are frequently on the move. It simplifies storage and eliminates the need to transport a cumbersome mode of transportation. Due to its collapsible structure, the scooter can be effortlessly slotted into a car trunk without the difficulty of running out of room or encountering unwieldy obstructions during transit.
The AOVO®X9 Plus is the ultimate portable scooter due to its carrying handle that adds to its convenience. The centrally located handle on the frame enables individuals to easily carry the scooter around, making it a great choice for those living in apartments who need to carry their scooter up and down stairs without undergoing any discomfort or muscle strain.
The AOVO®X9 Plus electric scooter is perfect for travel enthusiasts as well. With its compact proportions, the scooter is a breeze to store in the overhead compartments of most planes, making it a reliable choice for those seeking to bring their ride on their travels. Plus, the scooter's featherweight build means that costly airport baggage fees will no longer be a concern, adding to its appeal.
In addition to its portability, the AOVO®X9 Plus stands out with impressive features that render it an outstanding option for those seeking a dependable and effortless means of travel. With its powerful motor, the e-scooter can reach a maximum speed of 25 kilometers per hour, providing a hassle-free and speedy alternative to conventional transportation. This swift and efficient mode of transportation will save commuters from the frustration of traffic and unnecessary hold-ups.
The scooter's reliable lithium battery can sustain a distance of 20 kilometers in one go, granting enough energy for long-distance journeys.
Its durable lithium battery allows the scooter up to 20 kilometers on a single charge, providing ample power for extensive travel. To add to its allure, the vehicle has a plush seat and adept shock absorbers that enable a smooth ride even on rough and uneven terrain. Thus, individuals can breathe easily while taking the scooter out for a spin over long distances, free of battery-related anxieties and discomfort.
To sum up, the AOVO®X9 Plus is an exceptional electric scooter that offers portability and convenience for people constantly moving. Its collapsible structure and built-in grip enable effortless transportation, and its robust engine, extended battery life, and cozy seating make it an outstanding option for daily commutes and explorations.
Safety and Security
Safety is the top priority when designing the AOVO®X9 Plus, as seen by its inclusion of a powerful LED headlight and tail light, along with a horn, to guarantee your visibility and audibility to fellow commuters. Trust in the reliable braking power of the dual braking system – front and rear disc brakes – for a secure and controlled stop. Additionally, the key ignition system adds another layer of security, effectively rendering the scooter unusable to those without authorization.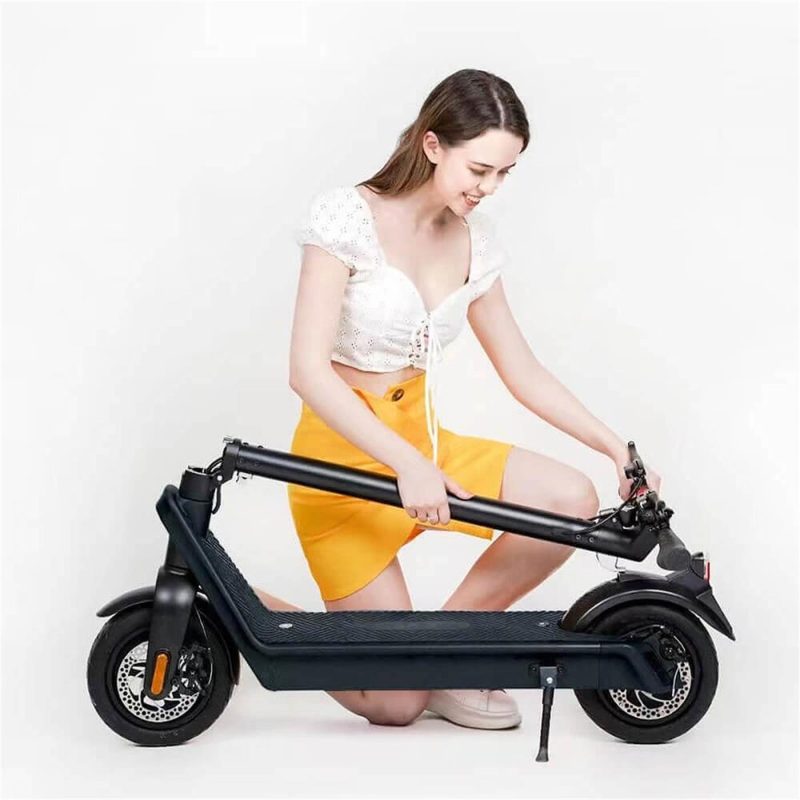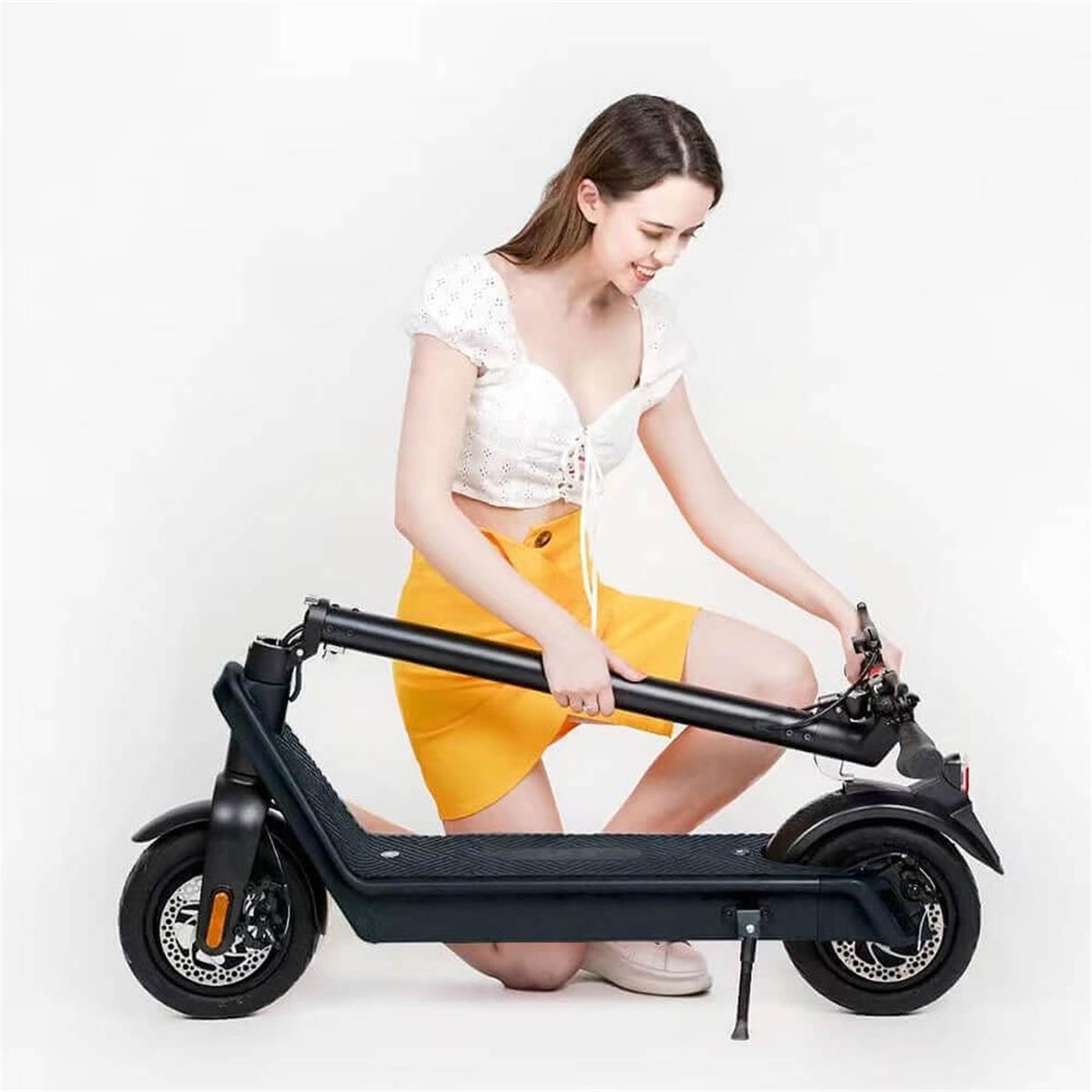 Maintenance and Repairs
With a user-friendly design in mind, the AOVO®X9 Plus has been engineered to be effortless to maintain and repair. It has a detailed user manual with step-by-step instructions on performing rudimentary maintenance tasks such as lubricating the chain or ensuring adequate tire pressure. Furthermore, with a comprehensive warranty included as standard, any potential defects or problems that emerge with ordinary users will be covered.
Conclusion
Were you looking for a dependable and environmentally-friendly mode of transportation? Look no further than the AOVO®X9 Plus scooter! Perfect for city commuters, this scooter boasts a sturdy, durable motor, impressive battery life, and a comfortable ride. Whether commuting to work or class, running errands, or sightseeing, the AOVO®X9 Plus is an ideal choice. With its lightweight design and low maintenance requirements, this scooter is practical and convenient, making it the ultimate all-in-one transportation solution.