The AOVO Microgo V2 electric scooter is the best option for you if you are looking for comfort and confidence when riding an adult electric scooter. A driving range of up to 25km and a top speed of 30km/h make it perfect for getting anywhere. Let's look at the distinctive features of the AOVO Microgo V2 electric scooter. It comes with all those special features an electric scooter lover craves for.
Distinctive features of AOVO Microgo V2 electric scooter
It is essential to know the max weight that a scooter can hold, the motor's power, how long it can run, and how you can control it before purchasing it. We have provided the answer to your question about a scooter's features to understand the features of the AOVO Microgo V2. Let us first understand what MICROGO is.
MICROGO – what is it?
MICROGO is the sub-brand of AOVO. It has been manufacturing commuter scooters under the MICROGO brand since 2004. This company operates in more than 12 markets in five countries, making it a recognized company in the scooter marketplace. The fundamental mission of AOVO is to make the world a greener and more sustainable place.
Wernher von Braun is honored by the Microgo V2 electric scooter.
Now that you know the basic information about MICROGO, let's talk about the features of the Microgo V2 electric scooter from AOVO:
It also gets a certain speed, has cruise control, and you do not have to grip the throttle all the time. It also has Bluetooth connectivity, speed setting, mileage & time recording, e-scooter self-test.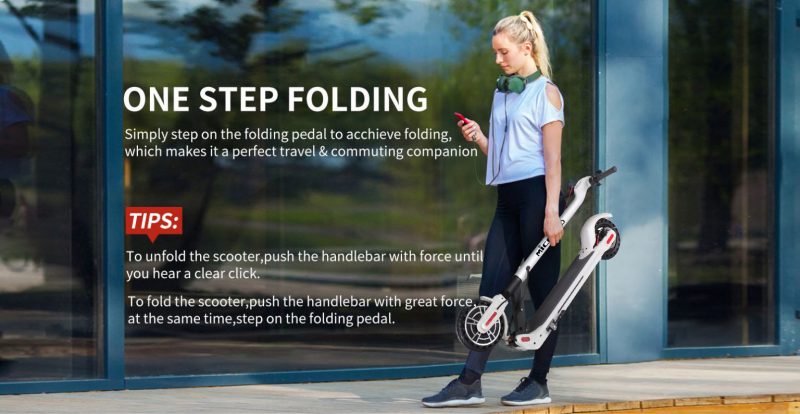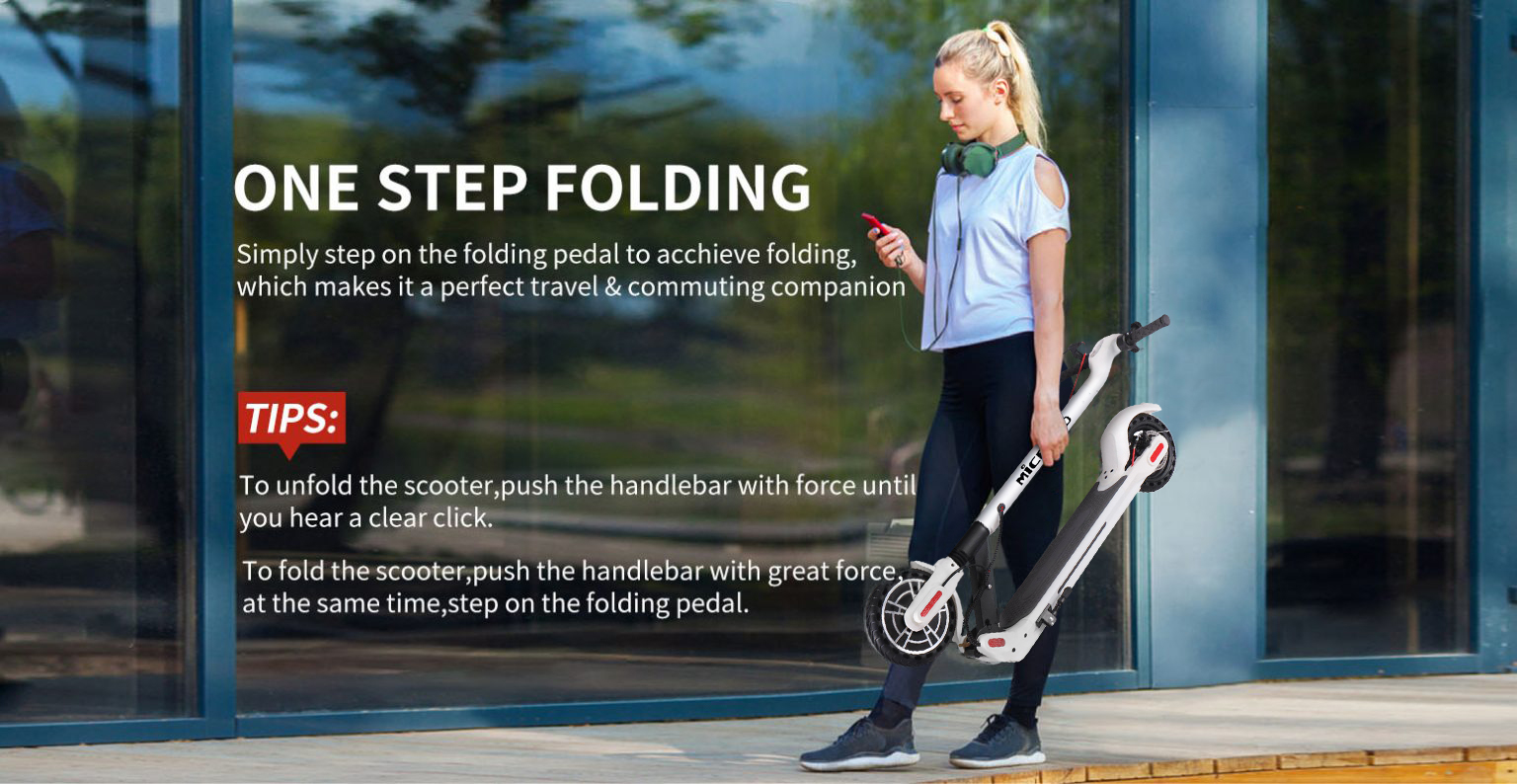 APP Control and USB Charger
The MICROGO V2 has a Bluetooth system, speed setting, mileage & time recording, and e-scooter self-test. You can download the free APP and pair your MICROGO V2
e-scooter via Bluetooth. Additionally, it has cruise control, so you can keep a certain speed without twisting the throttle constantly.
You can charge your mobile phone with the electric scooter's USB interface while you drive to remain connected at all times. As a safety precaution, please use this function to extend the battery life in an emergency.
8.5″ Honeycomb Tire
Honeycomb tires are puncture-resistant, wear-resistant, and shock absorbing, allowing you to go through mud, grass, rain, and glass comfortably without pumping up the tire.
3 Speed Mode & 350W Motor
The fast electric scooter has three speeds (15km/h, 25km/h, 31km/h). Make sure you adjust the speed to comply with local laws and regulations. The maximum range of this scooter is 30 kilometers (depending on the distance and the weight of the driver).
Advanced Braking System
It has a disc braking system and an EABS regenerative anti-lock braking system. There are front and rear warning lights and cool sidelights so you can be a star at night.
The Microgo V2 has two reliable braking systems, a disc braking system, and an EABS regenerative anti-lock braking system, providing exceptional control and grip. The wheels of the V2 are designed to prevent the scooter from skidding and provide a stable ride. Disc brakes and a comprehensive electric system give a safer ride.
Widen pedal
With its non-slip, comprehensive, and smooth pedals, AOVO's Microgo V2 electric scooter stands out. The rider doesn't need to worry about losing balance or slipping off because there's plenty of room to stand on. With widened pedal safety, the rider feels more confident during the ride and enjoys his ride with more confidence.
One-step folding 
AOVO Microgo V2 electric scooters' folding mechanism is effortless. Just step on the folding pedal, and the scooter will fold, making it the ideal travel and commuting companion. If you are a newbie in e-scooter riding or a professional, handling and folding the AOVO Microgo V2 electric scooter will not be a problem. In any case, below are some helpful tips for folding the AOVO Microgo V2 electric scooter.
One-step folding tips for AOVO Microgo V2 electric scooter
You must simultaneously push the handlebar and step on the folding pedal to fold the scooter.
You will hear a click when you push the handlebar until the scooter is unfolded.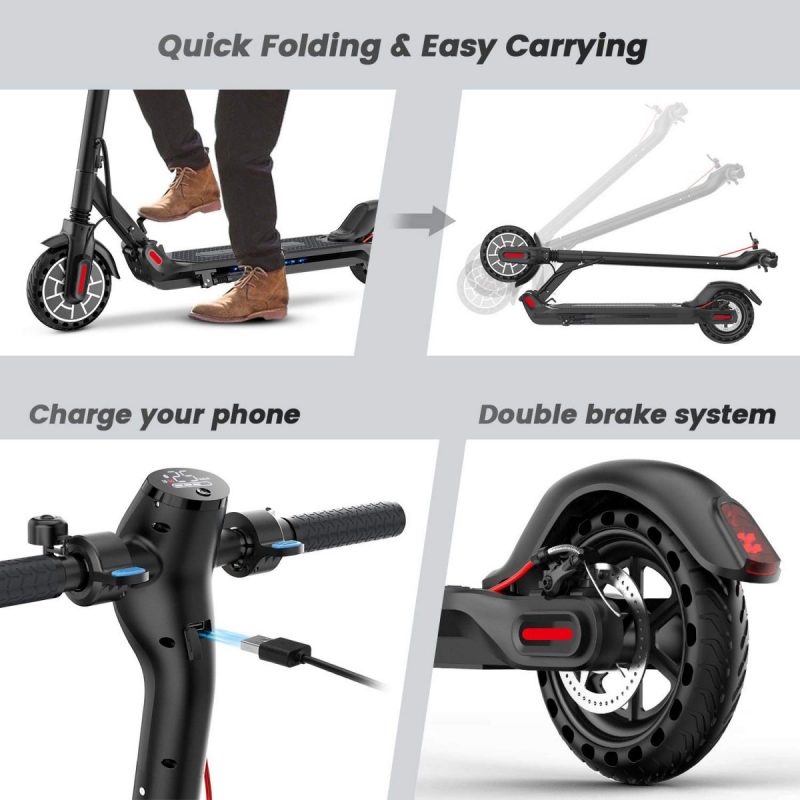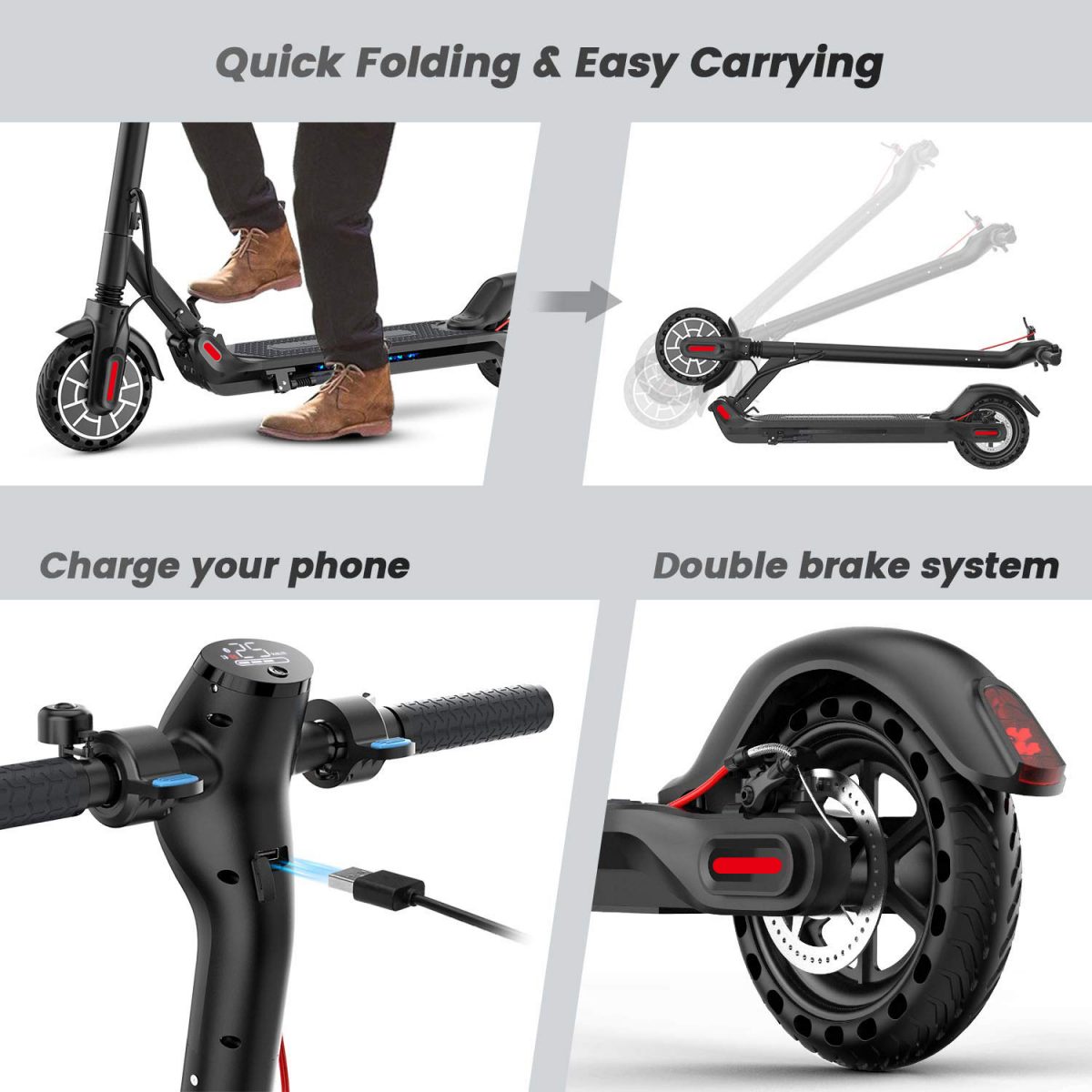 High brightness LED driving lights
With its high-intensity LED driving lights and darker light, the AOVO Microgo V2 electric scooter makes riding considerably safer. There is no dazzling light source on the road's surface, and it is, therefore, more conducive to increasing safety at intersections.
An extensive array of bright LEDs in the headlight allows for safer nighttime riding. Our electric scooter for adults comes with a practical screen located between the handles so you can keep track of everything you need while riding. With an LED strip on the chassis, riders will stand out in the dark. Quickly see your battery level or speed. This will help you ride safely and comfortably, whether it is a bright daytime or dark nighttime.
Multifunctional storage bag
This AOVO Microgo V2 electric scooter has a hanging bag for storing items conveniently and a built-in USB port to charge smartphones.
We understand that you may want some extra space in your scooter to store items such as mobile phones, chargers, USB ports, and other things during your ride.
Therefore, we've added an integrated multifunctional bag to the AOVO Microgo V2 electric scooter so you'll be able to store all your belongings in a secure place without any trouble.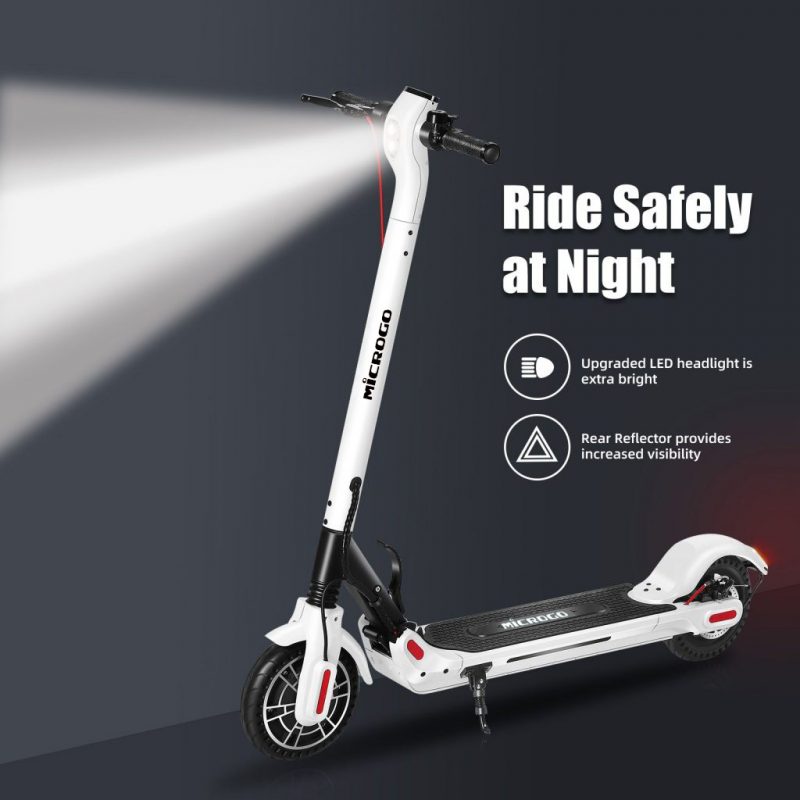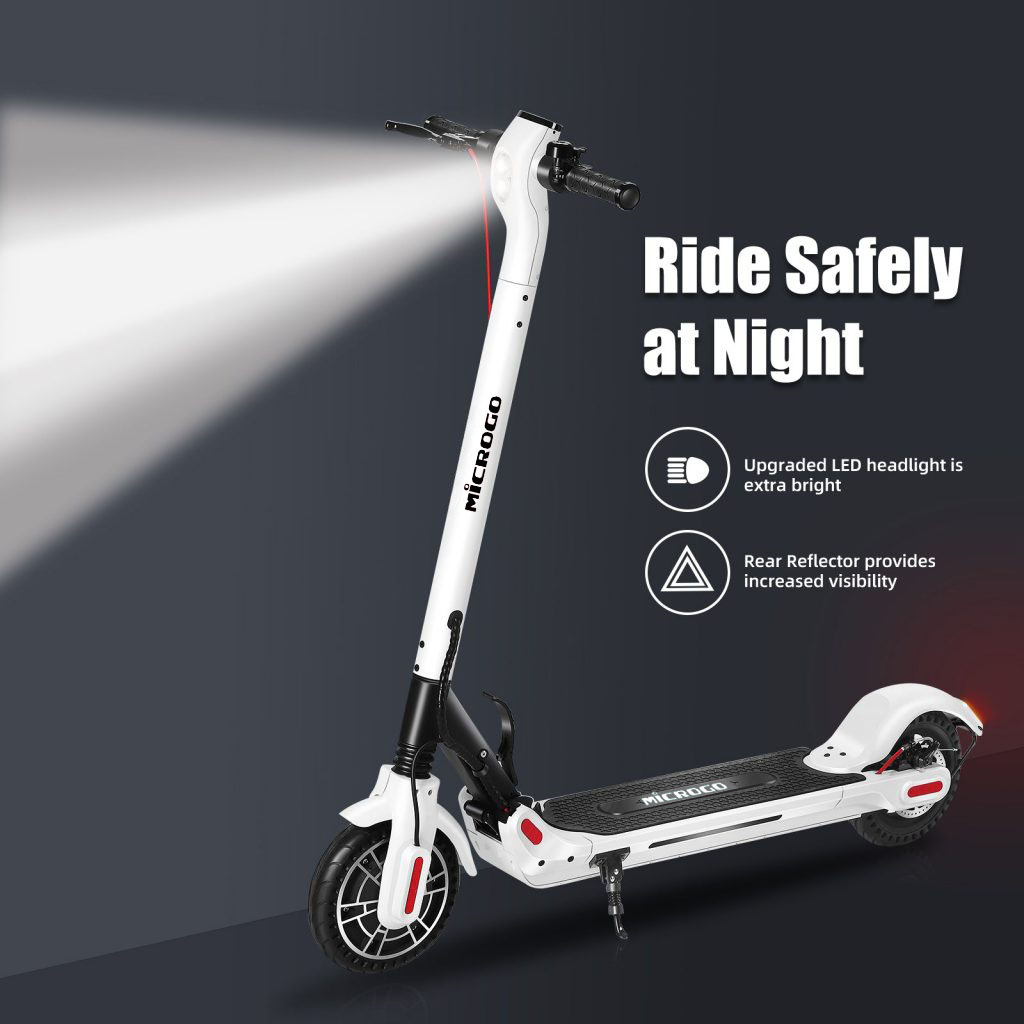 Superior performance & Long age Battery
The AOVO Microgo V2 electric scooter combines a 350W motor with a long-lasting battery. It reaches a top-speed of 25km/h and has a range of approximately 25km to go anywhere you want quickly.
An upgraded 350 Watt motor offers three operating speeds (15km/h, 20km/h, 31km/h) and a maximum distance of 30km (depending on road conditions and driver weight). It has a strong driving force and can effectively handle steep 15% hills. This device has a lithium battery with a capacity of 7.5Ah, which allows more extended range and higher speed.
Guarantee and service
Electric scooters come with comprehensive warranty policies. It is easy to get after-sales service. The warranty covers manufacturing defects for a specific period. In the case of accidents, improper installation, normal wear and tear, and improper use of scooter parts, warranty coverage is not available.
Powered by aovostore.com.