As commuting becomes more demanding, electric scooters are a sought-after option that has gained considerable traction among modern commuters as a means of convenient transportation. Many have preferred electric scooters due to the escalating need for greener and highly effective travel options. Among the plethora of options, the AOVO®Bogist C1 Pro electric scooter has emerged as a prominent player, thanks to its exceptional design tailored for urban commuters. This write-up will delve deeper into why this model has become a top seller.
Introduction to AOVO®Bogist C1 Pro
The electric scooter known as AOVO®Bogist C1 Pro has been purposefully created for contemporary commuters. Its featherweight nature and the ability to be folded into a compact unit make it a flexible choice for individuals who frequently use public transportation or have limited space for storage. This scooter is stylish in three colours – black, white, and red.
Specifications
The AOVO®Bogist C1 Pro, an exceptional electric scooter, prides itself on its vigorous 350W motor. With its muscular motor, this scooter can cruise at an outstanding velocity of 25 km/h, making it an ideal option for expedited trips within the city perimeter. Whether you're commuting to work, carrying out mundane chores at the nearby market or simply exploring the metropolis at a relaxed pace, this scooter is your ultimate ally, offering unmatched assistance at every step.
The AOVO®Bogist C1 Pro boasts an exceptional range as one of its prime attributes. With the ability to cover a distance of up to 25 km on a single charge, the scooter is more than capable of meeting the daily transport requirements of most individuals. This outstanding feature further enables hassle-free commuting without the concern of having to plug in the battery repeatedly.
When selecting an electric scooter, it is essential to consider its ability to support ample weight. Luckily, the AOVO®Bogist C1 Pro surpasses this criterion by accommodating a maximum load of 120 kg, which implies it can cater to the requirements of the majority of adults. This characteristic endows the scooter with versatility and practicality, making it an apt alternative for individuals ranging from commuters to scholars to those who crave some leisurely ride.
The AOVO®Bogist C1 Pro is not limited to its incredible range and robust motor only, but it also includes a suspension system both in the front and in the rear. Such a system ensures a comfortable and safe ride even on rough terrains. This feature is crucial while riding to avoid any discomfort. Be it the city's congested streets or serene parks and trails; this scooter guarantees a stable and smooth ride.
The AOVO®Bogist C1 Pro is an excellently crafted and dependable electric scooter that provides a plethora of perks and advantages. Its robust engine, remarkable distance coverage, and durable weight-bearing capacity make it an optimal selection for those who seek a convenient and effective means of conveyance. Moreover, its state-of-the-art front and rear suspension set-up ensures you relish a seamless and pleasant ride regardless of your route.
Safety Features
AOVO®Bogist C1 Pro is an impeccably safe mode of transportation, boasting many features to ensure reliability. Adding premium front and rear LED lights in the scooter guarantees maximum visibility, even in low-light surroundings. Further, the scooter boasts of a dual braking system that harmonizes the prowess of a disc brake with an electronic one. Therefore, you can trust the consistent and reliable stopping power it delivers. Additionally, the large deck offers generous space for the rider, enabling them to stand comfortably throughout their journey.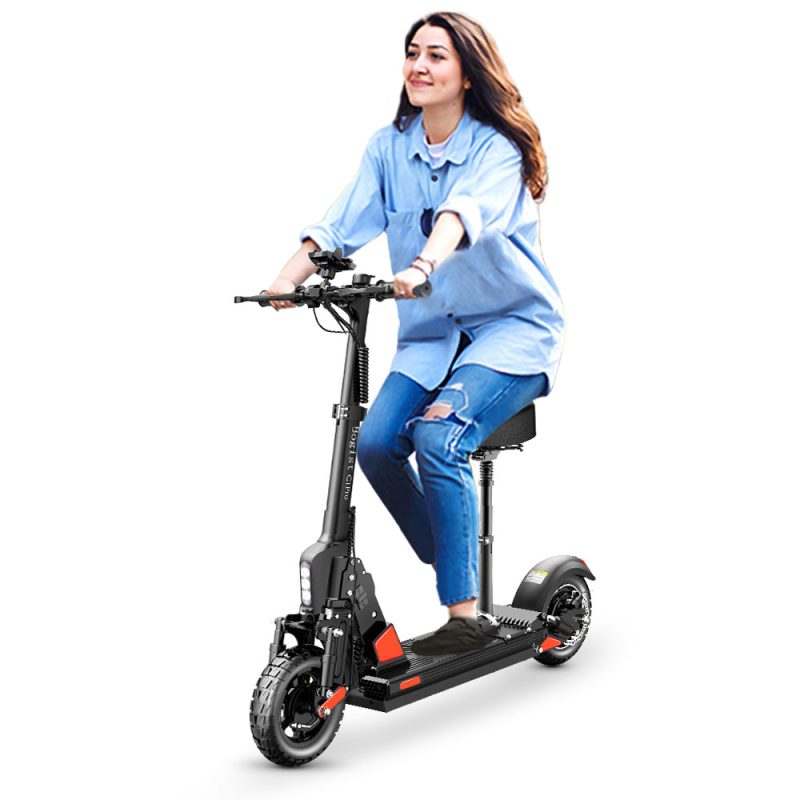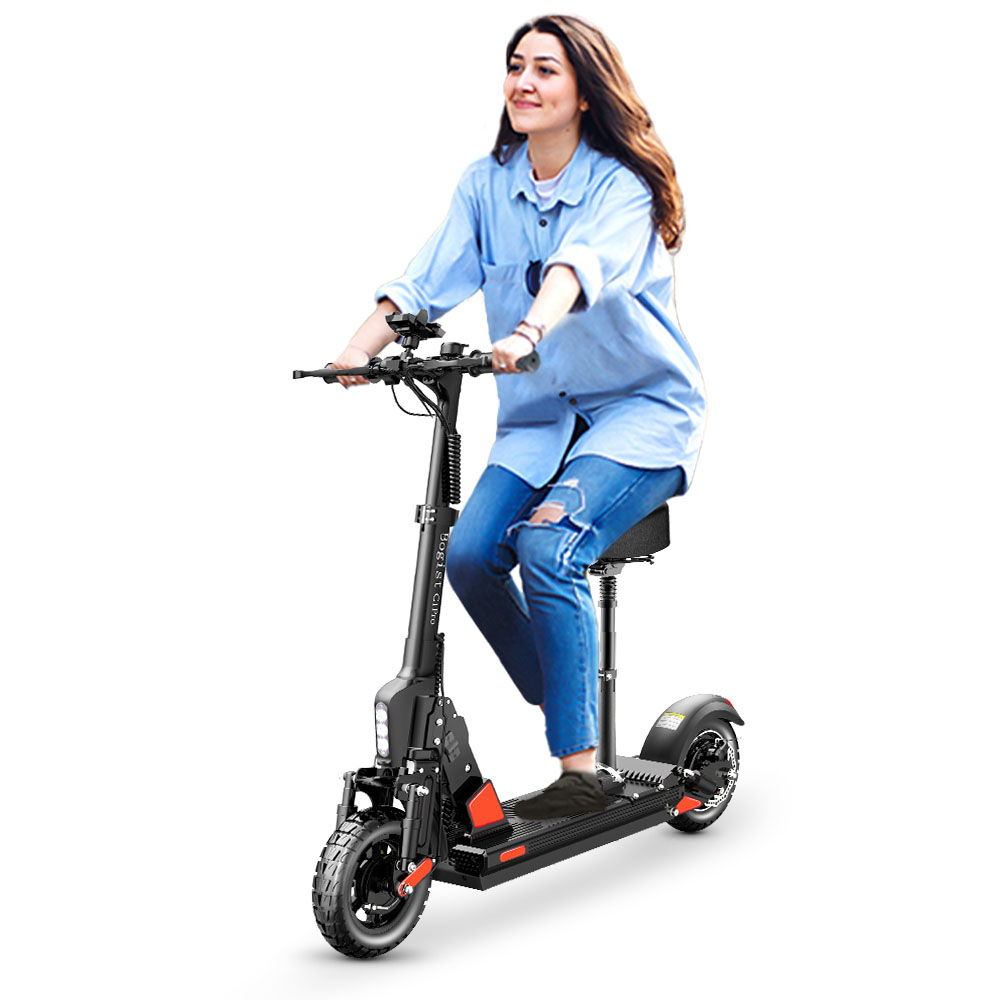 Folding Mechanism
With its innovative folding mechanism, the AOVO®Bogist C1 Pro electric scooter has garnered a significant following among users. This feature sets it apart, from other electric scooters available in the market. Thanks to the effortless folding mechanism, you can quickly fold and carry the AOVO®Bogist C1 Pro within seconds, making it an ideal choice for commuters who regularly tote their ride.
The AOVO®Bogist C1 Pro's featherweight attribute is a notable advantage that renders it a top option for those who frequently travel. At just 12 kg, it is among the most lightweight electric scooters available, facilitating its portability and handling, even for those unaccustomed to bulky objects.
Travellers who wish to bring their scooter along on their road trips or journeys will find the AOVO®Bogist C1 Pro scooter an excellent choice, thanks to its handy folding feature. This mechanism makes storage a breeze and enables easy packing and transportation in a car trunk, adding to the convenience factor.
Moreover, the foldable feature of the scooter enables it to be conveniently kept underneath a desk. This is especially beneficial for individuals who use their scooter as a means of transportation to work as they can effortlessly store it, creating more room in their office. Furthermore, this characteristic of the scooter also adds an element of discretion, minimizing the chances of being stolen.
The AOVO®Bogist C1 Pro boasts an impressive folding mechanism that makes it effortlessly portable and easy to store while on the go. This scooter's portability is unmatched, making it a prime option for people constantly on the go. Additionally, the covert folding technique renders the scooter nearly unnoticeable and minimizes the likelihood of it being stolen. In conclusion, if you're seeking a lightweight, portable, and secure electric scooter, the AOVO®Bogist C1 Pro is worth a try.
LCD Display
The AOVO®Bogist C1 Pro boasts a user-friendly LCD screen, which exhibits crucial information such as battery level, speed, and other vital stats. This display is incredibly effortless to comprehend and delivers live feedback on the scooter's exertion. Furthermore, the screen encompasses an in-built odometer feature that accurately calculates the distance covered.
Battery and Charging
With a 36V 7.5Ah lithium-ion battery, the AOVO®Bogist C1 Pro can be fully recharged within 4 to 6 hours. Its charger easily plugs into a standard wall outlet, and the battery can be effortlessly removed for convenient charging at work or in other public areas.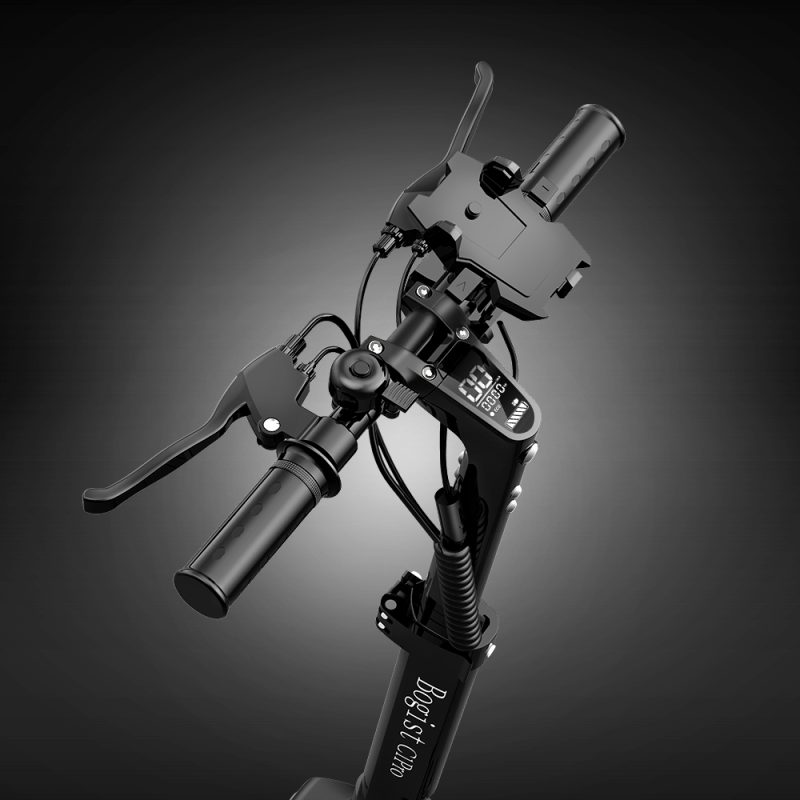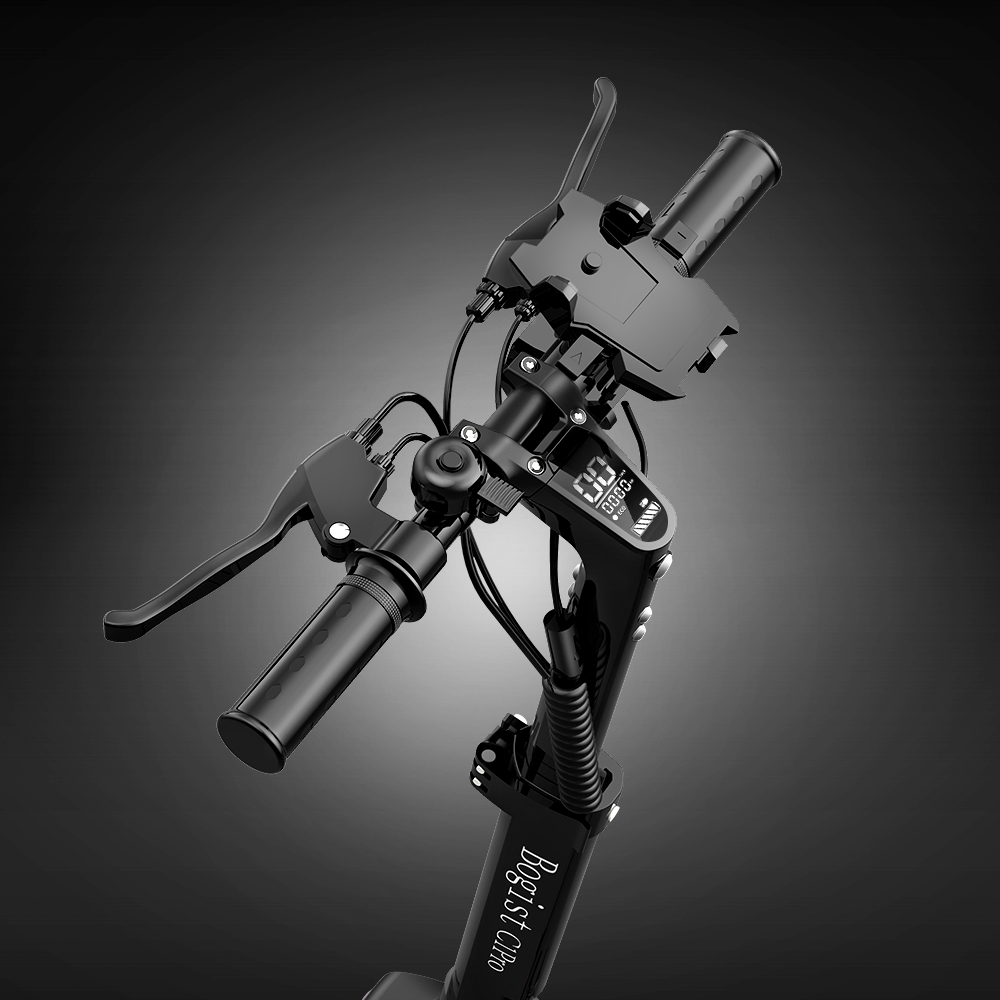 Portability
If you're a person who's always on the go, the AOVO®Bogist C1 Pro electric scooter might be the perfect mode of transportation for you. Customized to fit your requirements, this compact and handy mode of transportation is perfect for you. Its lightweight structure and foldable feature allow you to carry it wherever you go without any inconvenience conveniently.
The AOVO®Bogist C1 Pro offers unparalleled convenience with its impressively lightweight design, tipping the scales at a mere 24.5 pounds. This makes it incredibly effortless to lift and carry around, ensuring easy transportation. Furthermore, its foldable feature allows maximum portability and is the perfect solution for those constantly moving or with a hectic schedule. Commuters and scholars can comfortably take the scooter on public transport or stash it under their work area, allowing them to carry it wherever they go.
The AOVO®Bogist C1 Pro possesses a portable design coupled with a convenient carrying handle that is positioned at the midpoint of the scooter's frame. This enables users to transport the scooter extensively like a briefcase effortlessly. The handle is durable and feels cosy, ensuring that users can carry the scooter without any discomfort. This attribute notably benefits individuals who need to move the scooter over short distances or through staircases.
If you're searching for a highly portable transportation option, the AOVO®Bogist C1 Pro is an excellent choice. The AOVO®Bogist C1 Pro is an exceptional means of travel, particularly for individuals who lead a dynamic lifestyle. Its easily portable and compact design proves to be the epitome of convenience. The product's lightweight and foldable frame and carrying handle make it incredibly stress-free to take along and transport. Whether you need a ride on public transit or a way to store it beneath your desk, the AOVO®Bogist C1 Pro has got you covered, rendering it an excellent choice for those searching for a swift and hassle-free mode of transportation.
Maintenance
If you're seeking a no-fuss mode of transport, then look no further than the AOVO®Bogist C1 Pro scooter. The streamlined vehicle has been crafted with a focus on simplicity, eradicating the necessity for specialized equipment or expertise regarding upkeep. Essentially, it caters ideally to individuals who would rather not allocate their valuable time or finances to maintenance, rendering it the ultimate selection for individuals seeking a low-maintenance option or harbouring a mechanical disinclination. With straightforward design at its core, you can always count on hassle-free cruising.
The AOVO®Bogist C1 Pro boasts a sleek and uncomplicated design and includes a user manual that offers easy-to-understand guidance on upkeep the scooter. This manual is a precious asset for those who wish to keep their ride in impeccable shape, providing systematic directives on tasks such as monitoring tire pressure, oiling the chain, and fine-tuning the brakes.
Suppose you are a proud owner of AOVO®Bogist C1 Pro and wondering about the maintenance; worry not! Occasionally, you may be required to carry out a simple chore, such as changing your tires. Despite appearing intimidating, it is, in fact, much easier than you could envisage. Armed with several tools and a fraction of understanding, you can successfully execute the job within the comforts of your own home. Moreover, the accompanying guidebook furnishes lucid and effortless directions and ensures the procedure is unambiguous and hassle-free.
The AOVO®Bogist C1 Pro presents itself as a remarkable mode of conveyance, ensuring a hassle-free ride with its straightforward maintenance approach. It is a perfect fit for people searching for a reliable and uncomplicated way of commuting. Whether you are a professional heading to your workplace or a student rushing through college premises, this scooter would be an ideal choice, enabling you to reach your desired destination in a jiffy effortlessly. Its uncomplicated layout, in-depth user manual, and user-friendly tire replacements make it a phenomenal option that ensures years of uninterrupted functionality.
Price
For individuals seeking a cost-effective and useful mode of transportation, the AOVO®Bogist C1 Pro electric scooter is an excellent option. In search of a reasonably priced electric scooter that is easy on your wallet? Search no further than this exceptional model boasting unbeatable pricing and unmatched cost-effectiveness. With its exceptional value, this scooter proves to be a dependable and economical alternative for those needing a reliable mode of transportation. Follow the footsteps of astute commuters who have already opted for this marvellous invention – your decision's consequences will be nothing but beneficial!
The AOVO®Bogist C1 Pro boasts a major perk; it comes with a price tag that is easy on your wallet, making it a feasible purchase for a wider demographic. With this, the prospect of owning an electric scooter is now attainable for many individuals who previously may have been deterred by higher pricing. Additionally, its budget-friendly cost positions it as an ideal entry-level option for people intrigued by electric scooters but not ready to take a big monetary plunge."
The AOVO®Bogist C1 Pro is a wise investment, offering impressive quality without breaking the bank. This motorised scooter is a reliable and durable option, crafted from premium quality materials and equipped with a diversified range of attributes. Moreover, its robust structure effortlessly caters to riders of diverse statures and forms, rendering it an all-inclusive choice. Plus, this scooter exemplifies dependability with a potent battery that provides abundant power for a seamless and pleasant ride.
With a top speed of 45kmph, the AOVO®Bogist C1 Pro is an apt choice for running quick errands and making short commutes within the city limits. The scooter can cover a distance of 15 miles on a single charge, which is sufficient for meeting the daily travel requirements of most individuals. This scooter's compact size and lightweight structure ensure hassle-free manoeuvrability in tight spaces and allow you to weave through the traffic easily.
The AOVO®Bogist C1 Pro presents the added benefit of being user-friendly and effortless to maintain. The scooter features a user-friendly interface with an intuitive control panel, enabling riders to regulate speed and monitor battery levels. Moreover, its adept folding mechanism makes it effortless to stash away and carry along with you conveniently.
If you are looking for a budget-friendly and trustworthy transportation alternative, AOVO®Bogist C1 Pro electric scooter is an excellent choice. It incorporates remarkable features that ensure its efficiency and convenience for all your daily travels, making it a feasible option for short trips and commutes. A scooter is a practical option for individuals, including students, daily commuters, and environmentally conscious people. Therefore, you should genuinely consider AOVO®Bogist C1 Pro electric scooter for your travel needs.
Conclusion
Are you searching for a first-rate electric scooter to make your everyday travel more hassle-free? The AOVO®Bogist C1 Pro is the ultimate solution! Boasting a compact and easily foldable framework, it's a perfect choice for individuals who need a versatile and transportable mode of travel. Despite its compactness, don't be fooled – the C1 Pro carries a commanding engine and cutting-edge security specifications to keep you steady throughout your journey. With a suitable range designed for brief city commutes, you can glide through the urban sprawl without bothering about battery depletion. Moreover, at an economical price, it's an ideal pick for all who aspire to enjoy the perks of an electric scooter without weighing down their wallets.