The electric scooter, AOVO ook-tek V8, has become a sensation in the market due to its popularity and reliability. It is an excellent option for individuals seeking a hassle-free mode of transportation, bypassing the inconvenience of traffic and public commuting. In the forthcoming piece, we shall explore in-depth the functionalities and traits of the AOVO ook-tek V8.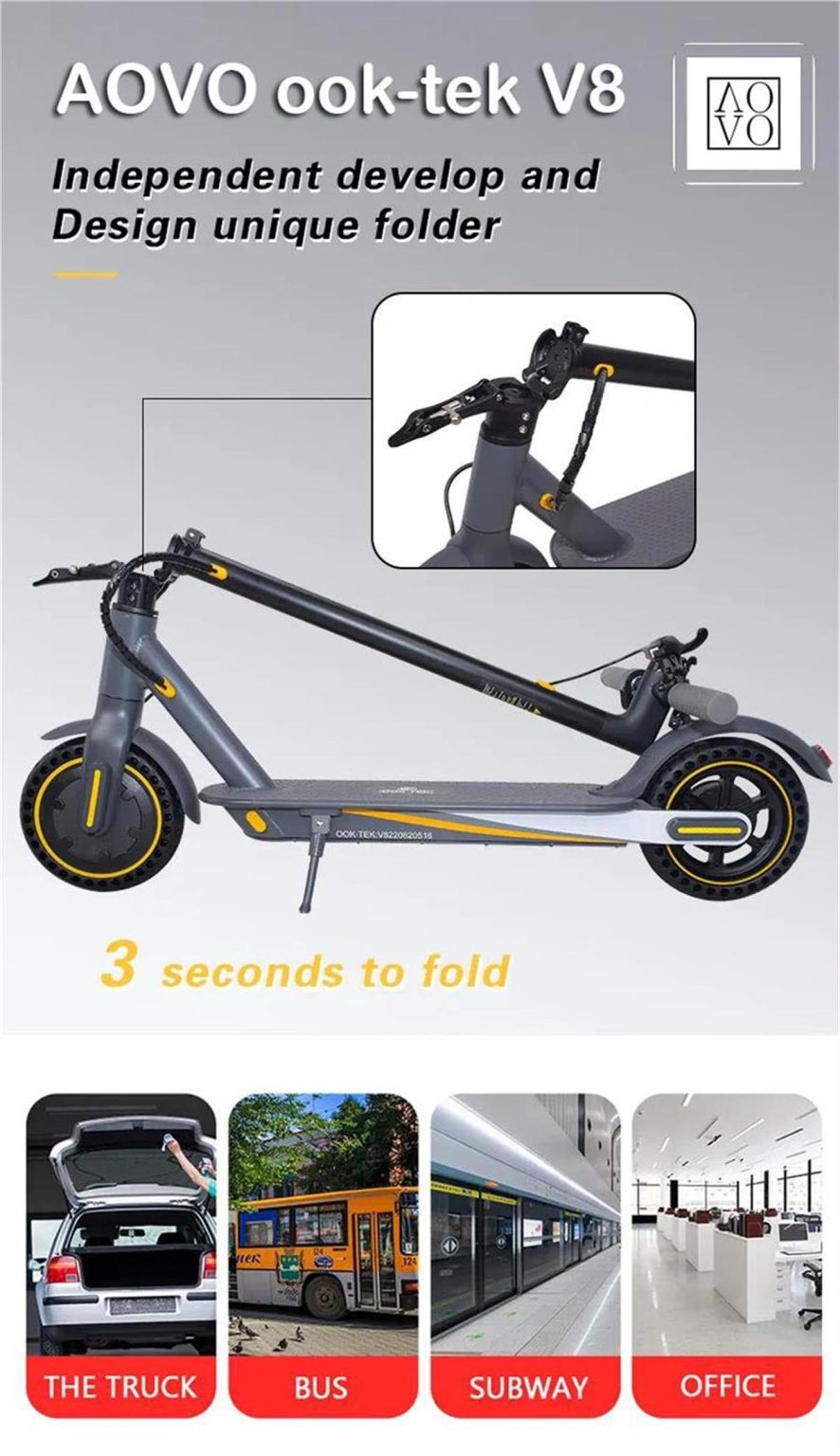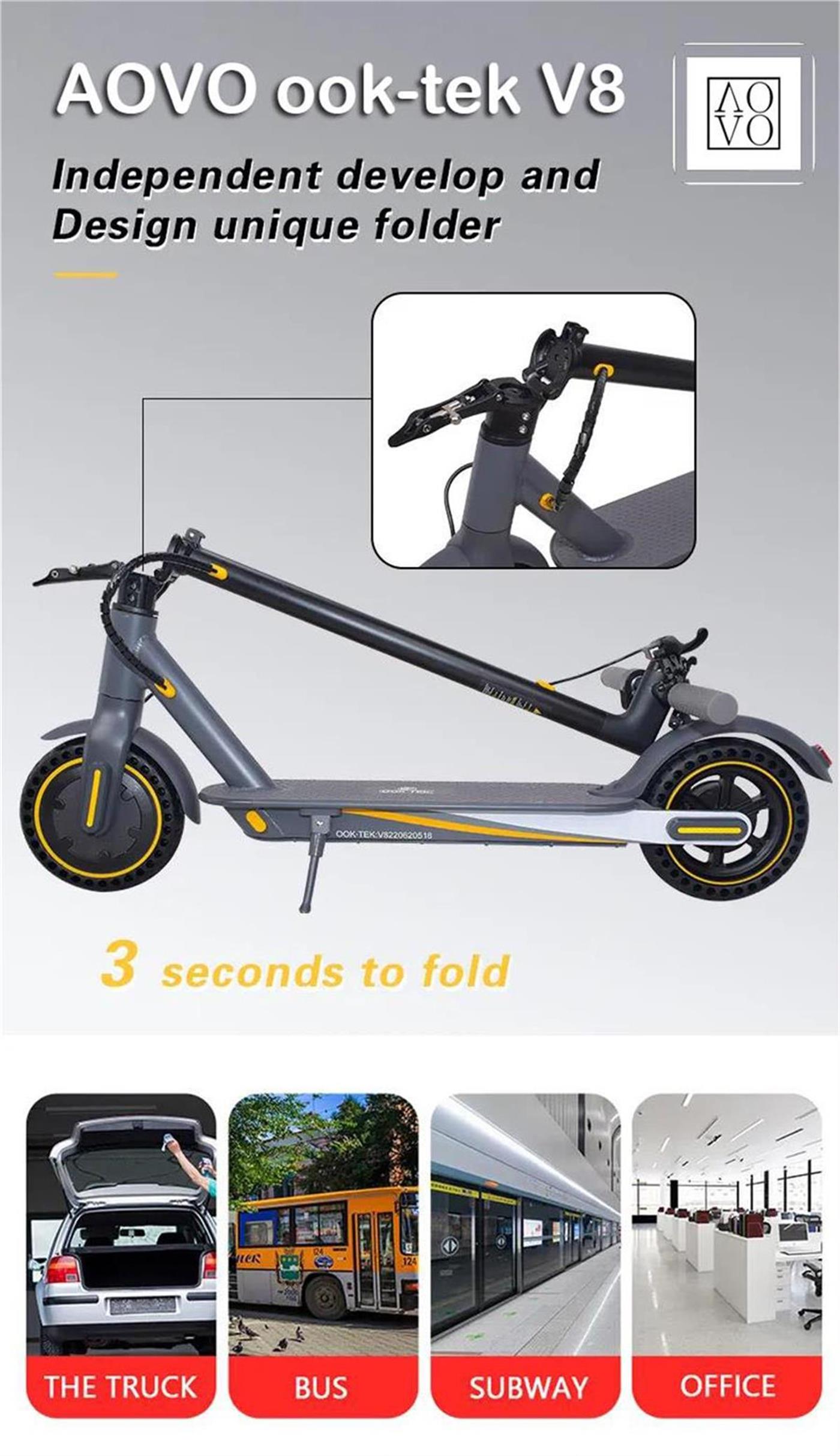 Introduction
If you're a city slicker looking for a swift, hassle-free way to get around, the AOVO ook-tek V8 electric scooter should be on your radar. Tailored to the needs of urban commuters, this sleek, foldable mode of transportation is incredibly lightweight and optimized for speed and efficiency.
AOVO ook-tek V8 comes equipped with a robust 350W motor, which is one of its standout features. The exceptionally powerful motor enables riders to maneuver through traffic with impressive speed and acceleration effortlessly. As a result, riders can reach their desired location in no time. Another noteworthy aspect of this motor is its excellent efficacy, allowing riders to travel for extended periods on a single charge without hassle.
The AOVO ook-tek V8 boasts an impressive motor and flaunts its featherweight build and portability. This feature grants commuters, shoppers, and curious city prospectors the luxury of transportation, regardless of need or destination. Moreover, the foldable structure facilitates effortless storage in limited areas such as car trunks and small closets.
The AOVO ook-tek V8 boasts exceptional quality as one of its standout characteristics. This cutting-edge e-scooter is crafted from top-of-the-range components built to endure the rigors of day-to-day usage. Moreover, it is furnished with a robust framework and tough tires, which deliver dependable stability and a seamless journey, notwithstanding uneven terrain or bumpy pathways.
The AOVO ook-tek V8 is not just any ordinary scooter; it is a product that brings joy to the user with its plethora of advanced features. Stay informed about your speed, battery life, and other important stats with ease, thanks to the user-friendly LCD. Moreover, a powerful LED headlight is also included to ensure your safety in low-light areas, making this device a must-have for confident and secure riding.
In urban transportation, the AOVO ook-tek V8 is an exceptional option. This remarkable electric scooter boasts a highly efficient and speedy performance, making commuting a breeze. Add to that its featherweight structure cutting-edge functionalities, and a perfect recipe for an enjoyable and convenient city ride. Surely, it won't be long before this electrifying ride becomes the top choice for every metropolitan commuter.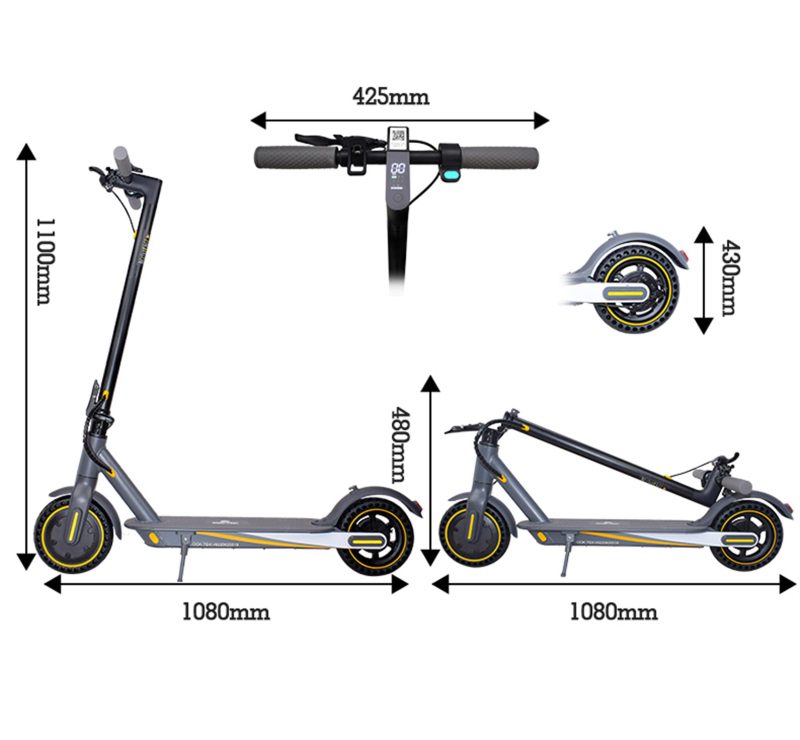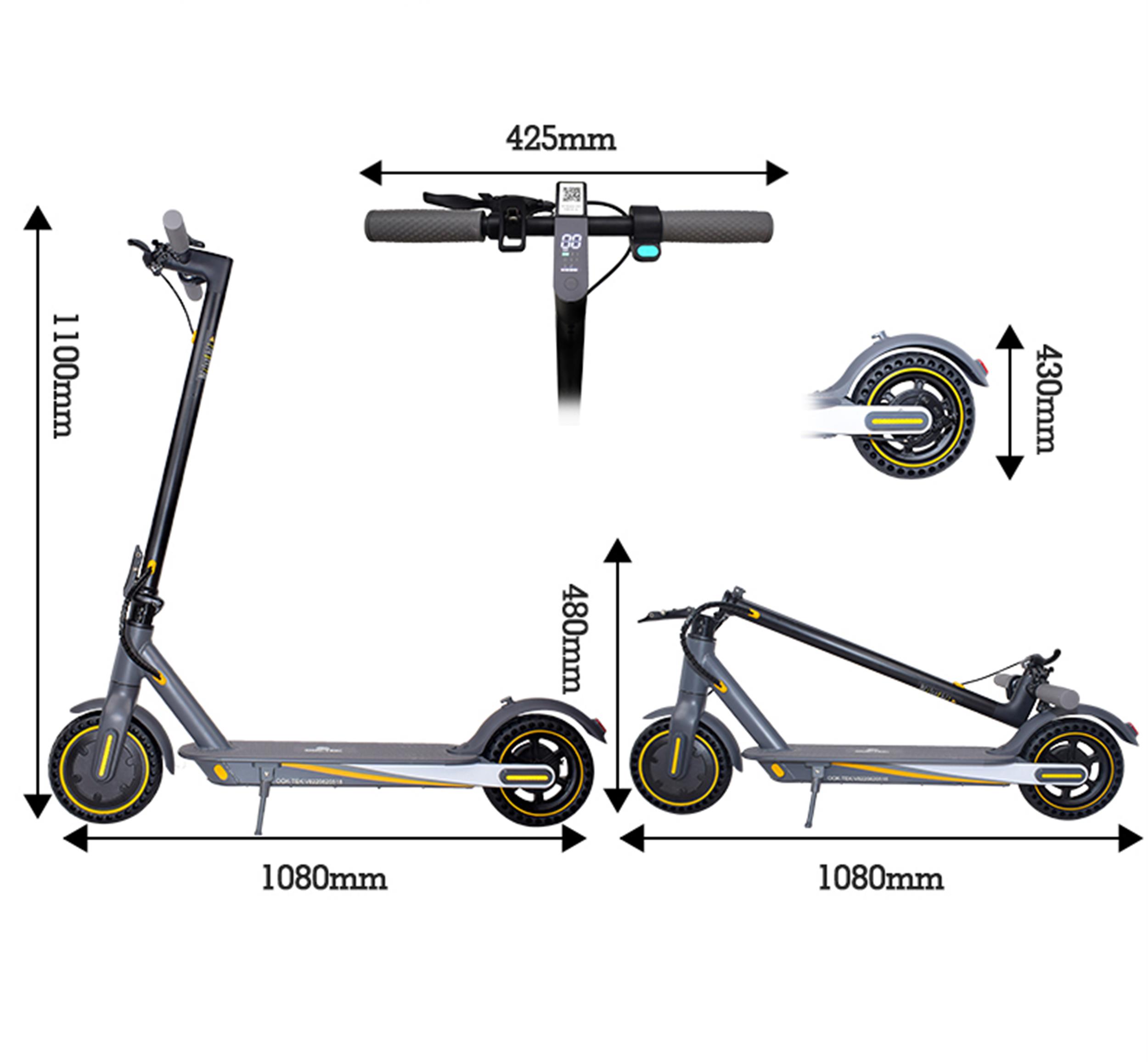 Design
If you desire a fashionable and efficient mode of transportation, the AOVO ook-tek V8 electric scooter is your ideal choice. It is the epitome of style and sophistication with its sleek design. One of its remarkable features is that it comes in two different hues – black and white, allowing the users to pick the one that aligns with their fashion sense and persona.
Crafted from top-notch aluminum alloy, the scooter boasts exceptional strength and resilience. Not only is this material immune to corrosion, but it can also endure the rigors of frequent usage. Moreover, its feather-light composition enables hassle-free portability whenever you're on the go.
Riding the AOVO ook-tek V8 is an absolute treat thanks to its robust motor that assures a hassle-free ride. It not only glides smoothly but also ensures maximum comfort. The cherry on top is its energy-efficient motor which significantly reduces power consumption and, in turn, increases its lifespan. This nifty feature makes it a go-to option for eco-conscious folks looking to keep their carbon footprint in check.
The scooter is furnished with a vital attribute, which happens to be an enduring battery. The battery's capacity is built to provide an extensive range of roughly 18.6 miles on one charge, making it perfect for long voyages or tootles around the city. Additionally, the battery can be effortlessly separated and charged. Hence, making it fittingly suitable for those users who are constantly on the move.
The scooter comes with many safety measures guaranteeing a safe and secure journey. The powerful headlight and taillight illuminate the way ahead in dimly lit surroundings. Additionally, a robust braking system ensures a hassle-free stop whenever necessary.
The AOVO ook-tek V8 electric scooter is a top-notch product that flawlessly incorporates fashion and functionality. This ride is perfect for anyone who wants an eco-friendly, efficient, and user-friendly mode of transportation. Its sophisticated appearance, sturdy build, and enduring battery life ensure a comfortable and seamless ride for an extended period.
Motor
With the AOVO ook-tek V8 electric scooter, you're in for a ride that's nothing short of exhilarating. Powered by a formidable 350W motor, it's a true powerhouse that emits raw energy, promising an invigorating journey. At a top speed of 25km/h, this scooter will leave you amazed with its lightning-fast agility. But what sets it apart is its motor's ability to easily conquer steep hills and inclines, making it a reliable and versatile mode of transportation.
Riders can benefit greatly from the AOVO ook-tek V8 scooter, thanks to its robust engine and rapid acceleration, especially for navigating bustling city streets. This model is ideal for those who require a means of transportation that can cover long distances within urban areas without facing the constant struggles of traffic delays or parking difficulties, as it can effortlessly maintain high speeds. Additionally, the scooter's economic advantages stand out, as it offers a cost-effective alternative to owning a car or depending on public modes of conveyance, thus providing riders with an incredible opportunity to cut down on transportation expenses.
Not only does the AOVO ook-tek V8 boast impressive functionality, but it also boasts extraordinary portability. This scooter's exceptional quality lies in its weightless and condensed structure, which makes it extremely effortless to transport when not in use. This extraordinary attribute is particularly beneficial for individuals who frequently commute via public transportation, as the scooter can be effortlessly folded and stowed in a bag or backpack. Furthermore, its petite size is especially favorable for people who reside or work in pint-sized spaces, as it takes up nominal room.
Incorporating safety at the forefront of its design, the AOVO ook-tek V8 boasts a robust framework and first-rate brakes, guaranteeing an uninterrupted and protected ride. Including LED headlights and taillights further elevate its safety, significantly enhancing visibility during night-time or low-light cruising. Accompanied by an extensive platform, the scooter caters to a comfortable and stable journey, culminating in a remarkable amalgam of safety features.
Looking after the AOVO ook-tek, V8 is a piece of cake due to its user-friendly control panel, which allows riders to tweak the speed and monitor the battery life effortlessly. Plus, the battery can be easily detached, making it a breeze to replace whenever necessary. With such amazing attributes, the AOVO ook-tek V8 stands out as a dependable and robust electric scooter that guarantees a swift, hassle-free, and secure mode of transportation for urban dwellers.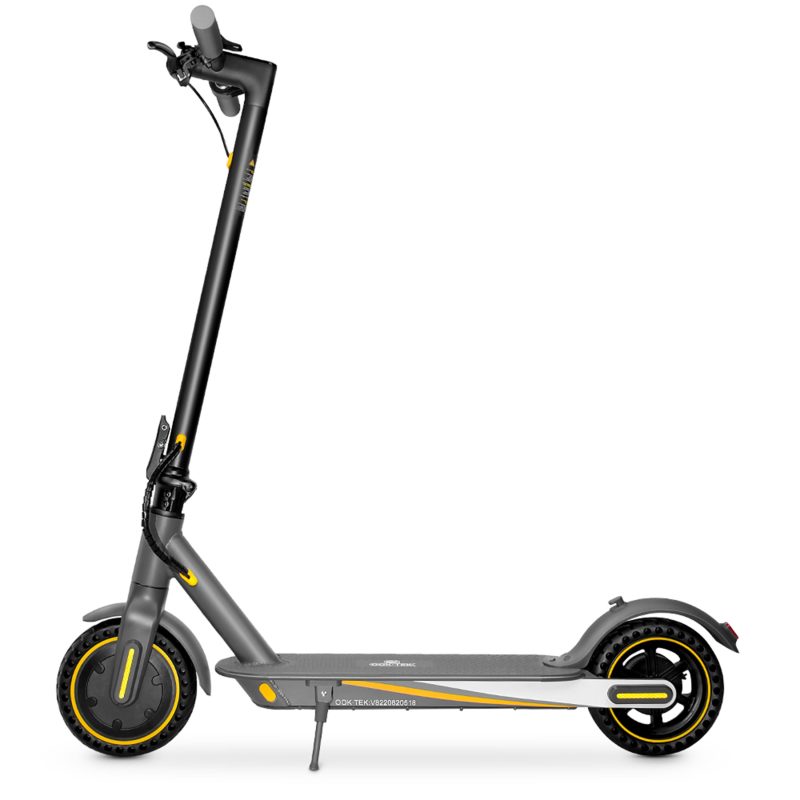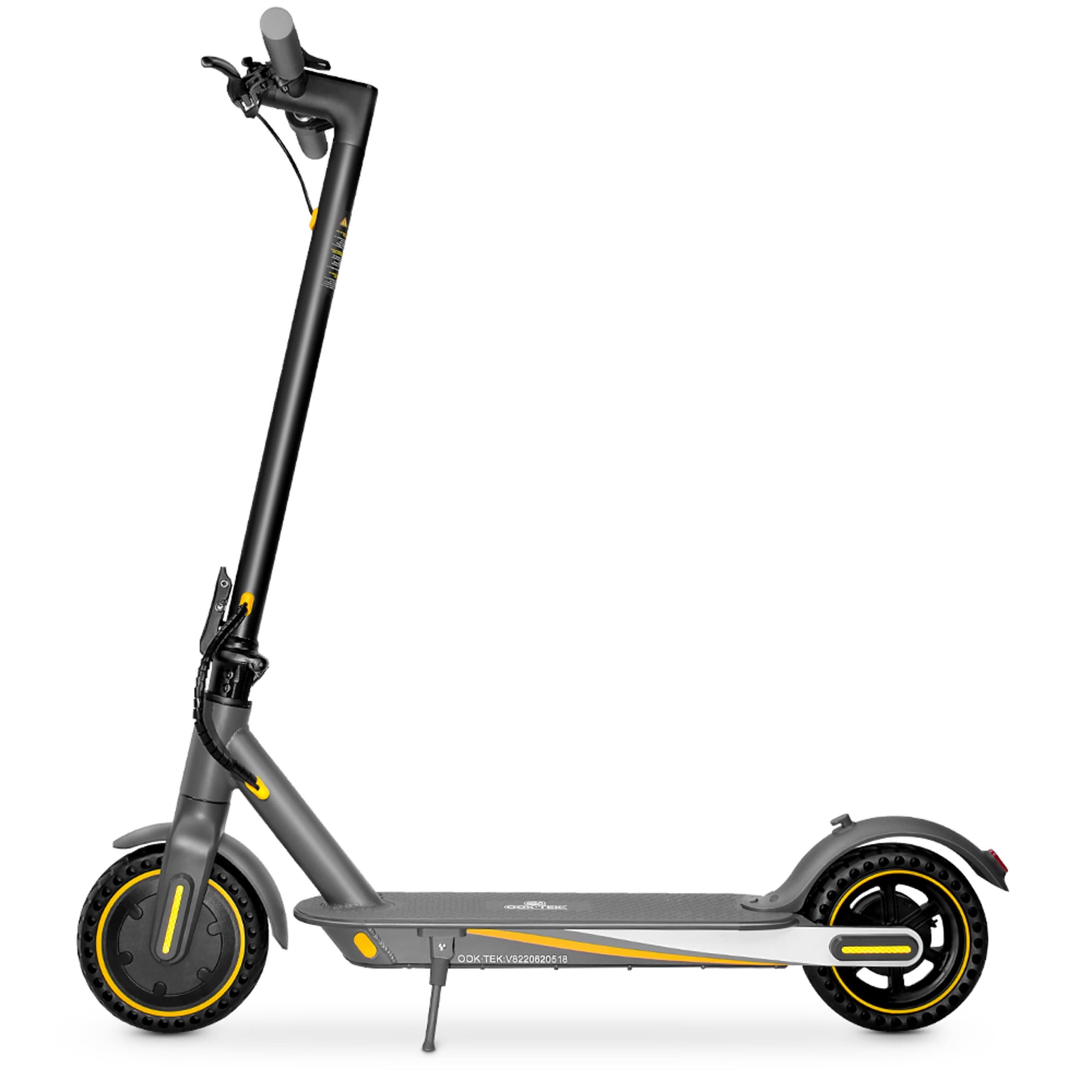 Battery
The AOVO ook-tek V8 is a well-received electric scooter acknowledged for its exceptional battery performance. Sporting a potent 10.5Ah 36V battery, this scooter can clock up to 35km easily in one go. This standout feature is undoubtedly a blessing for riders who prefer covering long distances without worrying about the battery dying midway.
The AOVO ook-tek V8's battery boasts a major benefit – its speedy charging time. Other electric scooters in the market pale in comparison as this battery restores its full capacity in just 6 hours. This perk is particularly advantageous to riders with regular scooter usage who dislike prolonged waiting times to charge the battery to its maximum potential.
Furthermore, the AOVO ook-tek V8 boasts a robust and enduring battery that is meticulously crafted using top-of-the-line components, guaranteeing its dependability and longevity. The battery's longevity is not fixed and can vary depending on its usage frequency. Nonetheless, if managed with attentiveness and maintained regularly, it can function smoothly for numerous years without any obstacles.
The magnitude of an electric scooter's battery must be considered when assessing its efficiency. The AOVO ook-tek V8, in particular, is a standout performer in this aspect with its whopping 10.5Ah capacity. With this high capacity, the scooter can unleash 10.5 amps of power for 60 minutes, making it a noteworthy and dominant contender. Its durable battery allows the scooter to traverse long distances without constant charging.
To precisely evaluate an electric scooter's performance, it is imperative to consider the battery voltage as a key factor. That being said, the AOVO ook-tek V8 distinguishes itself from the rest of the scooters in the market, owing to its impressive 36V battery voltage that is considerably higher. This elevated voltage translates to a more extensive range on a single charge and the ability to hit faster speeds, making the AOVO ook-tek V8 a compelling choice for those prioritizing speed and distance.
To sum up, the battery of the AOVO ook-tek V8 is a remarkable characteristic that distinguishes it from other electric scooters available in the market. Its impressive ability to hold a charge, high voltage, sturdiness, and fast charging make it an ideal preference for those who require a trustworthy and productive mode of electric scooter. With a commendable coverage of 35 km in just one charge, the AOVO ook-tek V8 is a perfect choice for everyday commutes or relaxed strolls within the city.
Brakes
If you're looking for an electric scooter to ensure your safety while riding, the AOVO ook-tek V8 is an excellent choice. Why? Because it features not one, but two sets of brakes! With both a front and rear brake in play, you can enjoy a smooth and reliable stopping experience – every time.
AOVO ook-tek V8 employs a superior braking mechanism: the disc brake. Essentially, a disc-shaped metal rotor is fastened onto the wheel, slowing down the wheel, thereby bringing the scooter to a stop when pressure is applied. By activating the caliper, the brake pads wedged therein are prompted to press onto the metal rotor, resulting in tremendous friction that ultimately hinders the wheel's motion.
The disc brake utilized in AOVO ook-tek V8 isn't limited to the front, as the rear end also uses it. This rear brake works identically to the front version, granting riders increased stopping force. Owning a rear brake is especially crucial for e-scooters since they are bulkier than standard ones, highlighting the need for extra stopping strength.
The AOVO ook-tek V8's dual braking system offers numerous advantages, with its remarkable responsiveness taking the lead. With two distinct brakes, riders can put pressure on both simultaneously, enabling them to come to a sudden halt if required. Moreover, disc brakes are highly regarded for their ability to deliver rapid and precise stopping power, making them an ideal fit for electric scooters such as the AOVO ook-tek V8.
The AOVO ook-tek V8 stands out from its competitors due to its exceptional dual braking system. This feature integrates front and rear disc brakes, allowing for a secure and dependable stopping experience, especially during unexpected situations. Whether using it for your daily commute or leisurely rides, you can rest assured that the AOVO ook-tek V8's braking system has covered you with its reliable design, ensuring your safety and steady control.
Tires
The AOVO ook-tek V8 is an electric scooter with an impressive design, equipped with a plethora of features that are guaranteed to enthrall riders of all proficiency levels. What truly sets this innovation apart is the exclusive 8.5-inch robust wheels that offer a smooth journey and ensure resistance to any chance of punctures.
For those who ride electric scooters, a major concern is the possibility of experiencing a flat tire. Conventional air-filled tires are vulnerable to sharp objects on the pavement and can easily spoil your entire ride or leave you stranded. Fortunately, the AOVO ook-tek V8's solid tires are built with a puncture-resistant design that eliminates this problem. So, you can now ride free of worry.
The AOVO ook-tek V8 boasts versatile tires that can easily tackle any terrain. From seamlessly gliding over flat asphalt to navigating through rough, uneven trails, these tires are made to withstand it all. You can rely on their exceptional traction and steadfast stability, instilling a sense of assurance that you can effortlessly journey through any path that calls to you.
Apart from offering practical advantages, the AOVO ook-tek V8's wheels also play a vital role in elevating the overall appearance and sensation of the scooter. The sturdy construction imparts a sophisticated and contemporary vibe to the vehicle, apart from augmenting its sturdiness and life span. Also, with their snug ride, you can savor prolonged rides on your scooter without exhaustion or unease.
The AOVO ook-tek V8 boasts exceptional 8.5-inch sturdy tires that set it apart from other electric scooters. Not only do they provide functional advantages such as being puncture-proof and all-terrain, but they also enhance the scooter's aesthetics and tactile sensation. Whether a veteran rider or a newbie, you will relish the added pleasure of riding with AOVO ook-tek V8's exceptional tires.
Display
The AOVO ook-tek V8 has a user-friendly and highly visible LCD screen that displays vital details such as the velocity, remaining battery power, and distance covered with crystal clarity.
Weight
With its weight of merely 12.5kg, the AOVO ook-tek V8 is incredibly lightweight, making it effortless to transport and stow away, even in cramped quarters.
Safety
Incorporating safety as a top priority, the AOVO ook-tek V8 is crafted to ensure protection during rides. The scooter guarantees visibility even amidst dim surroundings with a vivid LED headlight and taillight. The inclusion of a bell equips riders to notify walkers in their path, making commutes safer and stress-free.
Conclusion
If you're looking for a swift and effective way of travel that can be conveniently stowed away, the AOVO ook-tek V8 is an exceptional option. Its commanding engine, extended battery duration, and sturdy wheels make it an ideal choice for navigating the urban terrain with speed and security.